The OSO's 2020-2021 Season Reimagined!

The OSO Subscription Concert Series
The Ocala Symphony Orchestra has made the difficult decision to shift the scheduled 2020-2021 subscription series to the 2021-2022 concert season. With the impacts of reduced audiences and the large volumes of performers needed for the scheduled programming, the OSO made this decision to move the subscription season rather than sacrificing any repertoire. We will have the same concerts, just a year into the future!
Special OSO Concerts 
In lieu of these large performances, the OSO will continue the year with a calendar of flexible and unique performances. Planned programming includes the revival of the Hunchback of Notre Dame: Silent Film with Live Orchestra, The OSO on the GO series which will feature OSO trios and quartets performing out in our community, Chamber music performances designed for limited audiences, and the continuation of our Youth Outreach programming. The OSO holiday tradition, Symphony Under the Lights, is also currently scheduled to take place outside in Tuscawilla Park on the Jenkins Auto Group Open Air Theatre.
This flexibility will allow the OSO to maintain our core mission of bringing cultural opportunities to our community through music, while retaining the ability to quickly supplement programming as COVID-related impacts become more known. To ensure that we are planning performances that are possible within the most current guideline, tickets for these events will go on sale within 45 days of the concert.
About Your Tickets
1) You already purchased tickets for the 2020-2021 Subscription Season:
Apply your tickets to the 2021-2022 season so you are automatically locked in.
Request a full refund.
Donate the value of your tickets back to the Ocala Symphony Orchestra.
2) I am a subscriber and I have not renewed for the 2020-2021 Season:
The Reilly will hold your seats for the 2021-2022 season. You can also go ahead and renew and we will automatically apply it to our 2021-2022 season.
3) I am not a subscriber, and have not purchased any tickets: 
You are welcome to secure your Season Subscription tickets now and they will be applied to the 2021-2022 season which begins in October 2021.
Check back here for details on all our upcoming orchestra concerts! This year we will have a ton of amazing smaller-scaled concerts consisting of different sections of the orchestra – strings, brass and more await! We will be scheduling concerts 45 days out in order to properly gage the safety of inviting our guests to the concert hall. We hope to see you all soon!
The 2021-2022 Season!
Worth the wait, our 46th Anniversary Season beginning in October 2021, was put together by Maestro Wardell to feature great masterworks, hidden gems, and the best of pops with guest appearances by Nationally-renowned soloists. Following the artistic growth of our orchestra and the expansion to 5 subscription concerts in 2015, our 2021-22 season will add a 6th subscription concert! This means even more great artistic output by the musicians of the Ocala Symphony Orchestra as they grow and play more incredible music for you to enjoy!
Now, more than ever, it's a great time to be a season subscriber! While our single ticket prices per concert will increase to keep up with increasing costs of live artists, music royalties, and productions, we are offering significant discounts to our season subscribers!
By being an OSO Subscriber, you save as much as 42% over buying single tickets! As a newly added benefit, our OSO's season subscribers will receive early ticket access to other Reilly Arts Center events that include local, regional and national artists.
The Concerts
Magic, Metamorphosis, and The Mermaid
Paul Dukas' The Sorcerer's Apprentice (famously in Disney's Fantasia!) kicks off an evening of magical music and story telling that culminates in the grand tone poem, The Mermaid, by Austrian born, USA emigree, Alexander von Zemlinksy. The Mermaid is an absolutely gem of a piece, richly orchestrated, sweepingly romantic – a piece you will forever love and wonder why you hadn't heard it before!
Holiday Pops!
Maestro Wardell and our Ocala Symphony Chorus Director, Joshua Mazur, take the orchestra, chorus and audience on a journey through the holidays! You do not want to miss this annual tradition — you never know what might happen!
Vive la France!
An evening of French music that will leave you speechless! Two works for soloist and orchestra by Saint-Saens – featuring Concertmaster Stewart Kitts and pianist Bolton Ellenberg – are sandwich by titans of Impressionism in music. Debussy's haunting Trois Nocturnes a three movement set of tone poems will start the concert and the monumental Daphnis and Chloe, heard here with full choir will close out this incredible program led by our principal guest conductor, Maestro Raymond Chobaz! 
Music of the Americas 
Four great composers from North, Central, and South America guide us in a tour of the Americas through string orchestra music known and otherwise. Start our "drive" with Canadian composer Jeffrey Ryan's Drivetime before stoping briefly in the United States for Samuel Barber's Adagio for Strings, a piece memorably known for it's use in the movie Platoon and Barber's most known work. Then we will continue south through Mexico to the sounds of Carlos Chávez's Symphony No. 5 and be joined by internationally known guitarist Silviu Ciulei and clarinetist Jeff Brooks for our final destination in Argentina for Astor Piazolla's 100th birthday as we perform his Double Concerto for Bandoneon (replaced here by the clarinet!), Guitar and String Orchestra!
Renderings of Schubert
Schubert's overture to The Magic Harp begins an evening with endless possibilities. The winners of our Young Artist Competition – always an incredible delight to listen to – will dominate the middle of the program before Luciano Berio's Rendering closes out the performance. Berio uses the Uninished Symphony by Schubert as the fragmentary structure of this incredible work. Leaving Schubert's original parts intact, Berio weaves them together with a harmonic and spacial texture that truly feels both a part of and something completely out of this world at the same time. You're going to love it.
Symphonic Passion: The Bard, Byron, and Bolcom
To close our 45th season the orchestra returns to its bread and butter, the symphonic masters Dvorak and Tchaikovsky. With Dvorak's overture to Othello we briefly visit the Bard's tale and feel the passion and emotion of the Shakespeare tragedy. In Tchaikovsky's Manfred Symphony – a work he wrote between the 4th and 5th symphonies – we will hear what many call one of the most underrated works of the 19th century. It is emotional, beautiful, and dreadfully powerful as any Faustian tale would be. In between these two masterworks, Gabriel Lefkowitz returns to the Ocala Symphony to perform William Bolcom's Violin Concerto, a work written in 1983 that best captures all of the energy and essence of Bolcom's post-modern, eclectic style.
Benefits of being a Season Subscriber:
– Receive as much as 42% off depending on your ticket tier.
– Enjoy the same seats throughout the season.
– Receive complimentary tickets to the Young Artist Competition.
– NEW! Subscribers will receive early access to purchase select Reilly Arts Center performances!
Seating Chart
Support the Ocala Symphony Orchestra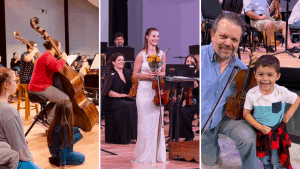 Arts for our Veterans
The Reilly partners with Vet Tix and Vets Helping Vets to provide complimentary tickets for Marion County veterans to performances that include rock, jazz, theatre, orchestra and more! Each July veterans are honored during our Red, White and OSO Blue: A Salute to Independence concert. 
Symphony for Schools
Each season, the OSO visits Marion County Elementary students for a curated music presentation. Students learn about the orchestra, hear instrument demonstrations and are welcomed to ask questions about music! 
Community Ticket Program
Through the Community ticket program, the Reilly gives tickets to local nonprofits so they can share the power of music with their clients and staff. 
Young Artist Competition
This competition invites promising young musicians from across the country to compete for the title of Young Artist Winner. Winners from the Junior and Senior categories go on to perform their concerto with the OSO at a Spring Subscription performance and receive a $1,000 cash prize. 
Open Rehearsals for Students and Families
Open rehearsals invite students and families to the Reilly Arts Center for free pizza, soda and an exciting behind-the-scenes experience as they join the OSO and Maestro Matthew Wardell during their final rehearsal before a weekend of concerts!