Private Lessons
Unlike group classes, private lessons are highly focused, more intense, and cater to each student individually. In these one-on-one sessions, instructors assess each student's unique abilities and develop a personalized plan to progress his or her musicianship to the next level. Private lessons are a great course for beginning music students who want a solid foundation, intermediate students who want to advance their skills, and adult musicians looking for more personalized instruction. Private lessons are $100 per month, includes 4 half-hour lessons.
Tuition is paid monthly for private lessons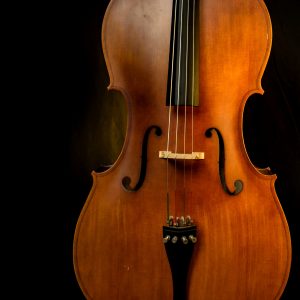 Cello
Instructor: Emily Smith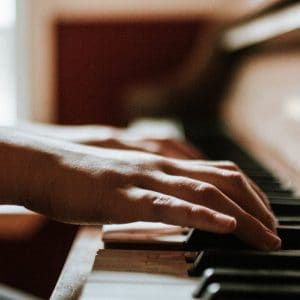 Piano
Instructor: Meagan Miles and Laurie Rangel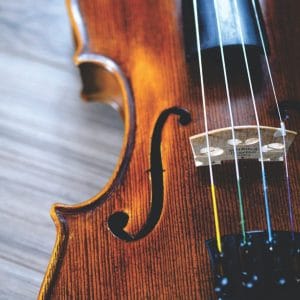 Violin/Viola
Instructor: Kathryn Poore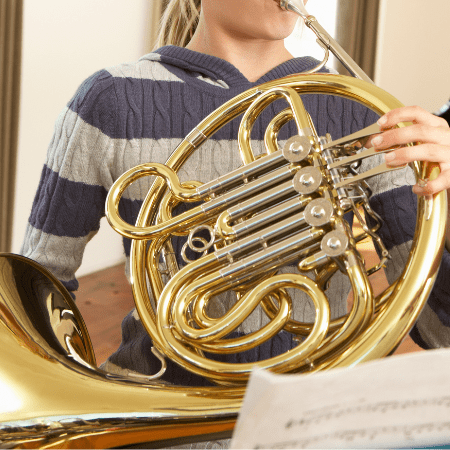 French Horn
Instructor: Margaret Dixon

Drum/Percussion
Instructor: Jimmy Sexton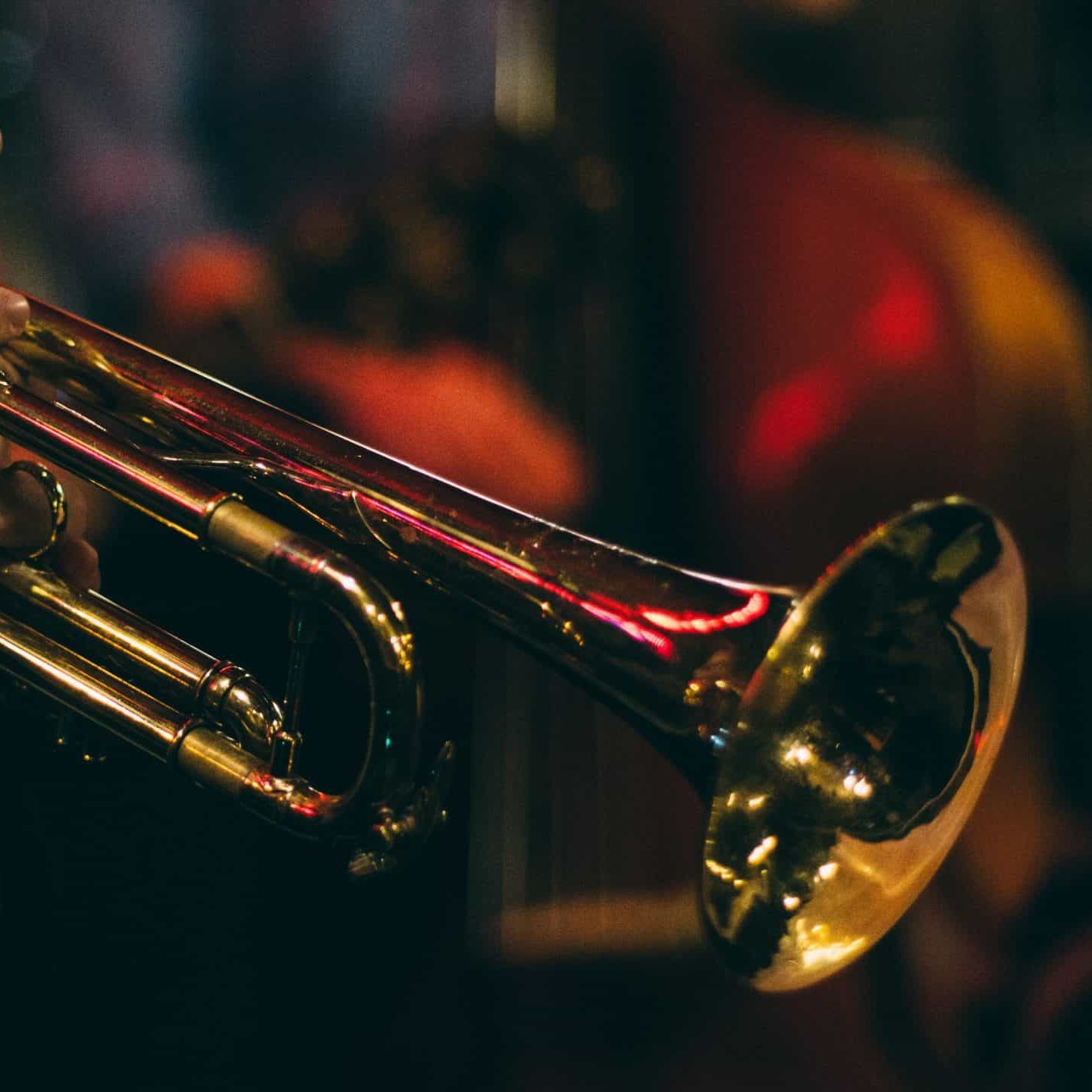 Trumpet
Coming Soon!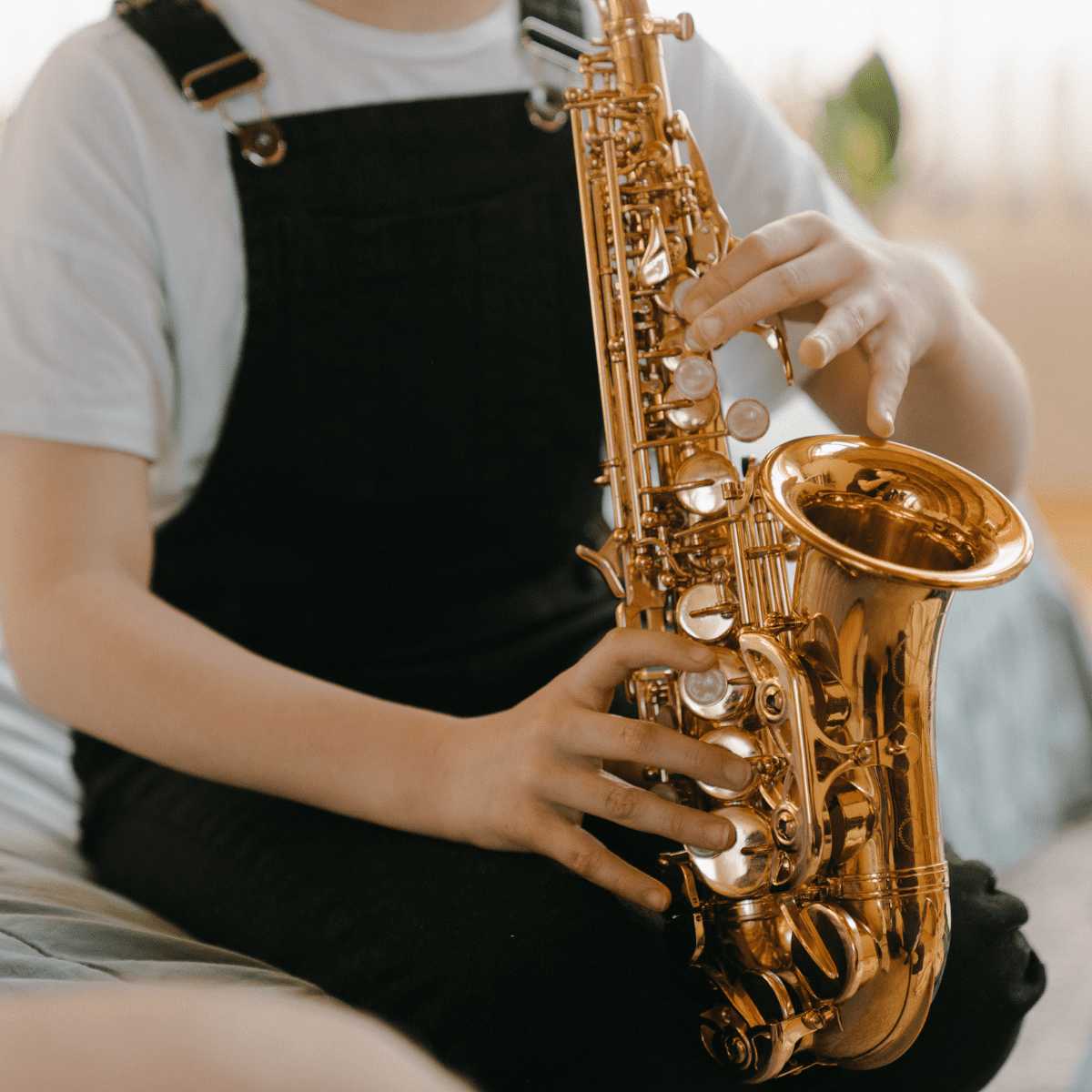 Clarinet/Saxophone
Instructor: Aaron Janosa, Jack Covell and Meagan Miles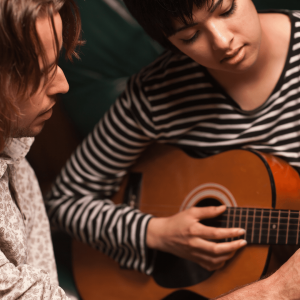 Guitar/Bass
Instructor: Jack Covell and Meagan Miles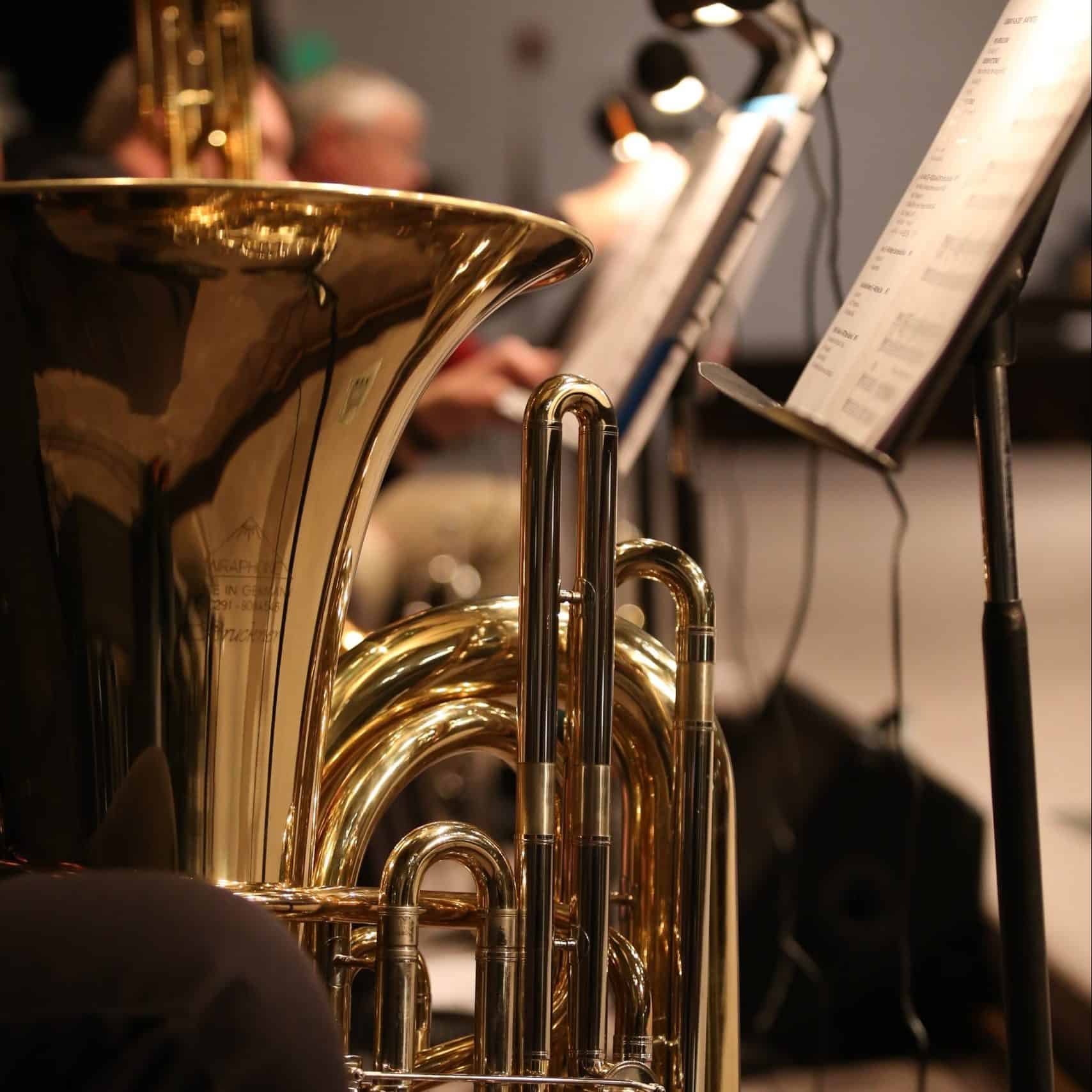 Low Brass: Trombone, Baritone, Euphonium and Tuba
Instructor: Cody Ray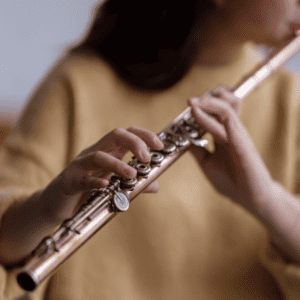 Flute
Coming Soon!
Group Classes
Our course offerings aim to provide more than the traditionally taught instrumental and musical techniques. We aim to create opportunities for students of all ages and backgrounds to experience music education in an inclusive environment, build a musical community, and encourage participation in the arts!
Tuition is paid by semester for group classes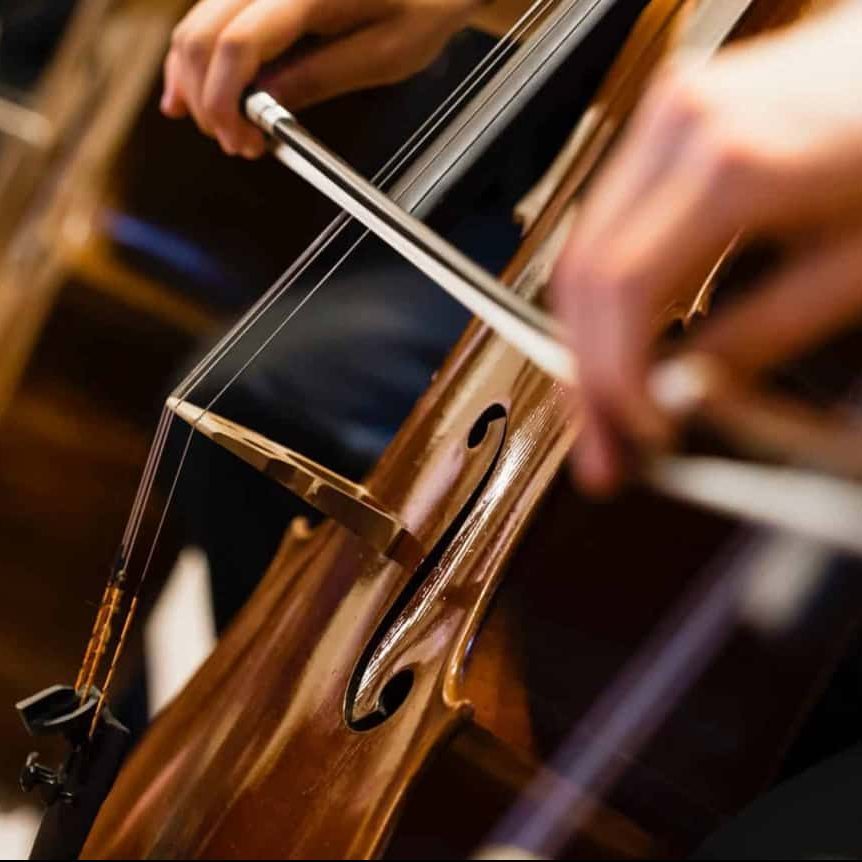 Violin & Viola Class – Grades 3-8
Fall Session begins September 5
This is a group string class designed for youth string players at beginning to intermediate levels! Students will explore basic fundamentals of their instrument, learning basic music notation and literacy, and play fun and engaging songs! Instrument rental: https://www.gviolins.com/rentals.html
Instructor: Kathryn Poore and Emily Smith
Class Meets: Tuesdays 4:30 – 5:15 PM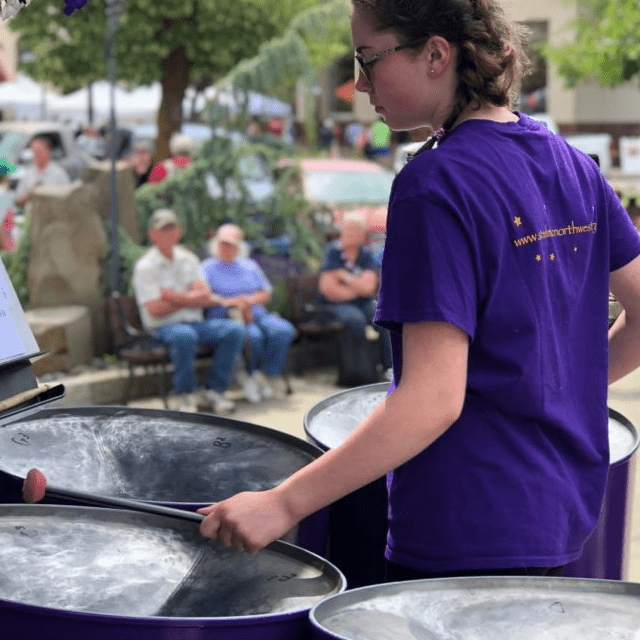 Steel Pan & Percussion Ensemble
FREE TRIALS: October 12 and November 19 at 5:30 PM
RSVP
Students may sign up at any time
Based on the competition bands that originated in Trinidad and Tobago throughout the latter half of the 20th century, the Steel Pan Ensemble provides members the opportunity to learn steel pan techniques as well as several accompanying percussion instruments. Additionally, members will learn to play in a variety of musical styles, ranging from the traditional calypso and soca styles of Trinidad and Tabago to today's pop music.
Instructor: Hannah Whitston
Class Meets: TBD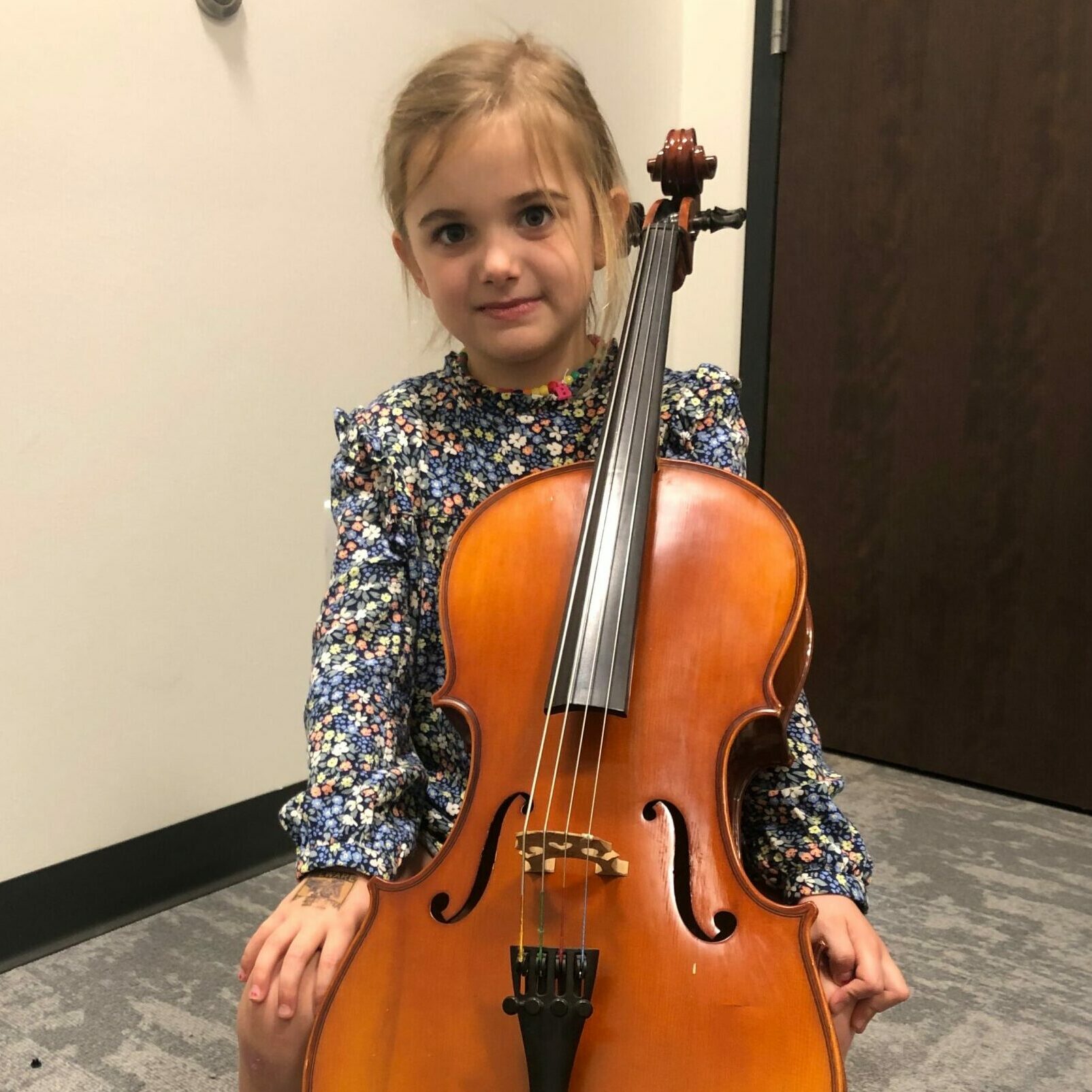 Suzuki Cello Pre-twinkle Class – Ages 5 to 8
Fall Session begins September 6
This is a group class designed for beginning cello students using the Suzuki Method. Students will learn beginning cello playing skills and basic ear training in a positive environment of learning, listening, and communication between teacher, students, and parents. To learn more about the Suzuki Method, visit https://suzukiassociation.org/about/suzuki-method/. In accordance with Suzuki philosophy, parent attendance is required at each class.
Instructor: Emily Smith
Class Meets: Wednesdays 3:15 – 4:00 PM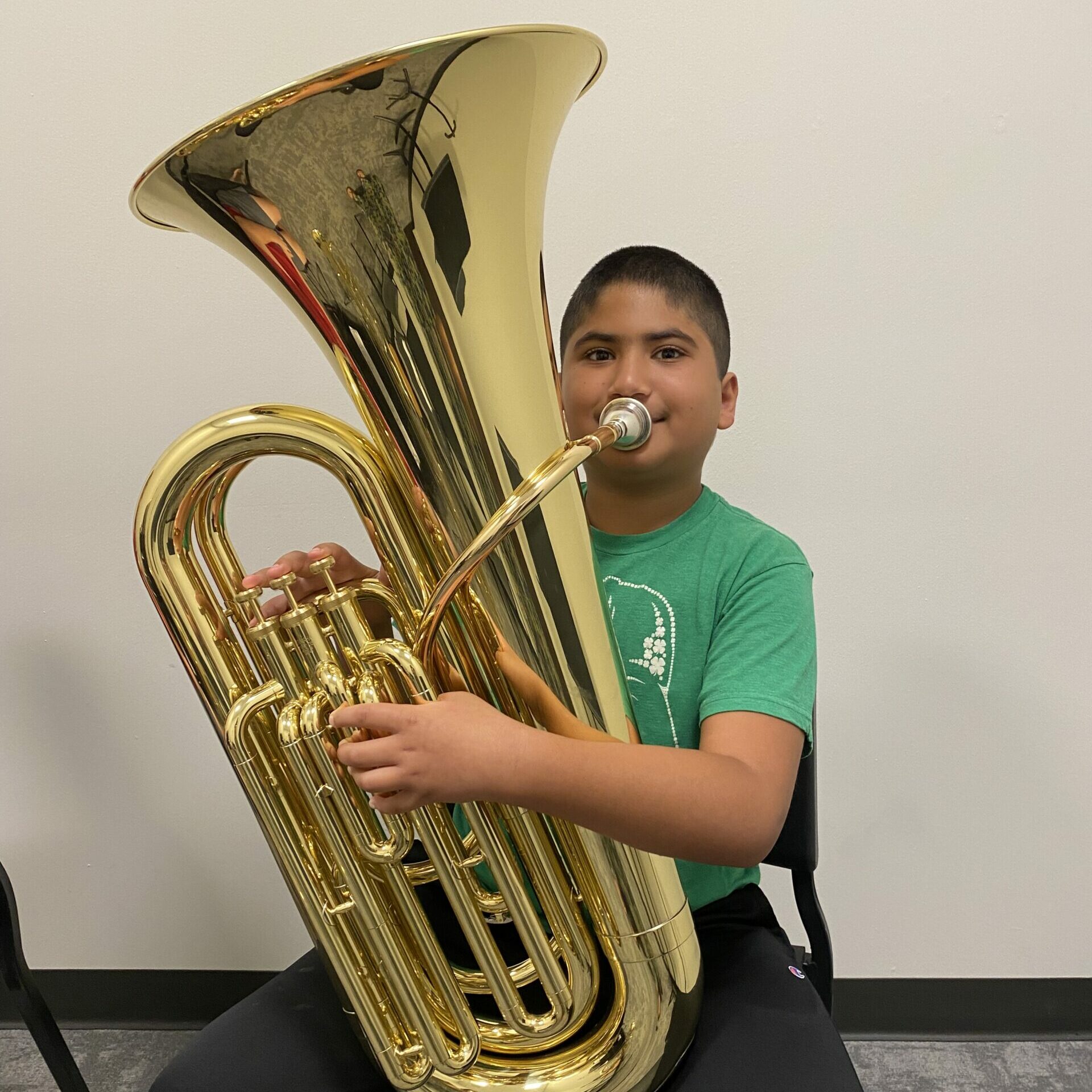 Beginning Band – Grades 4-8
Fall Session begins August 14
(Price includes method book and sheet music)
Beginning Band at the CMC is a two- semester program offering traditional style school band instruction, for students in grades 4-8. Wether you're a home-school family with few music education options, or you just want your child to get a head start in learning an instrument, Beginning Band is the perfect place to learn and explore instrumental music! Students will learn basic music notation, basic rhythm, fundamentals specific to their instrument, and perform a full ensemble concert! Students must provide their own instrument, rental and purchase options available!
Class Meets: Mondays through Wednesdays 4:00 – 5:00 PM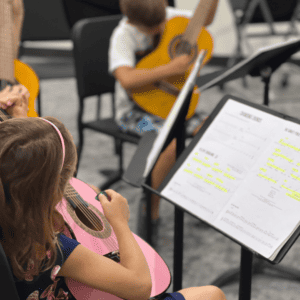 Guitar Class – Grades 4-8
Fall Session begins September 5
Class guitar is an economical and more social alternative to traditional, one-on-one guitar lessons. Taught in a group lesson format, class guitar students will learn the basic fundamentals necessary to play guitar, how to read music and guitar tablature, playing common chord progressions, and much more.
Instructor: Jack Covell
Class Meets: Tuesdays 5:30 – 6:15 PM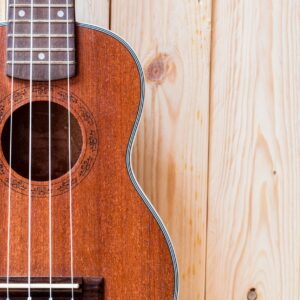 Ukulele Class – Grade 1-3
Fall Session begins September 7
Ukulele Class is an economical and more social alternative to traditional, one-on-one lessons. Taught in a group lesson format, class guitar students will learn the basic fundamentals necessary to play ukulele, how to read music and tablature, playing common chord progressions, and much more. It's also a great way for younger players with smaller hands to start fretted instruments!
Instructor: Meagan Miles
Class Meets: Thursdays 3:00 – 3:30 PM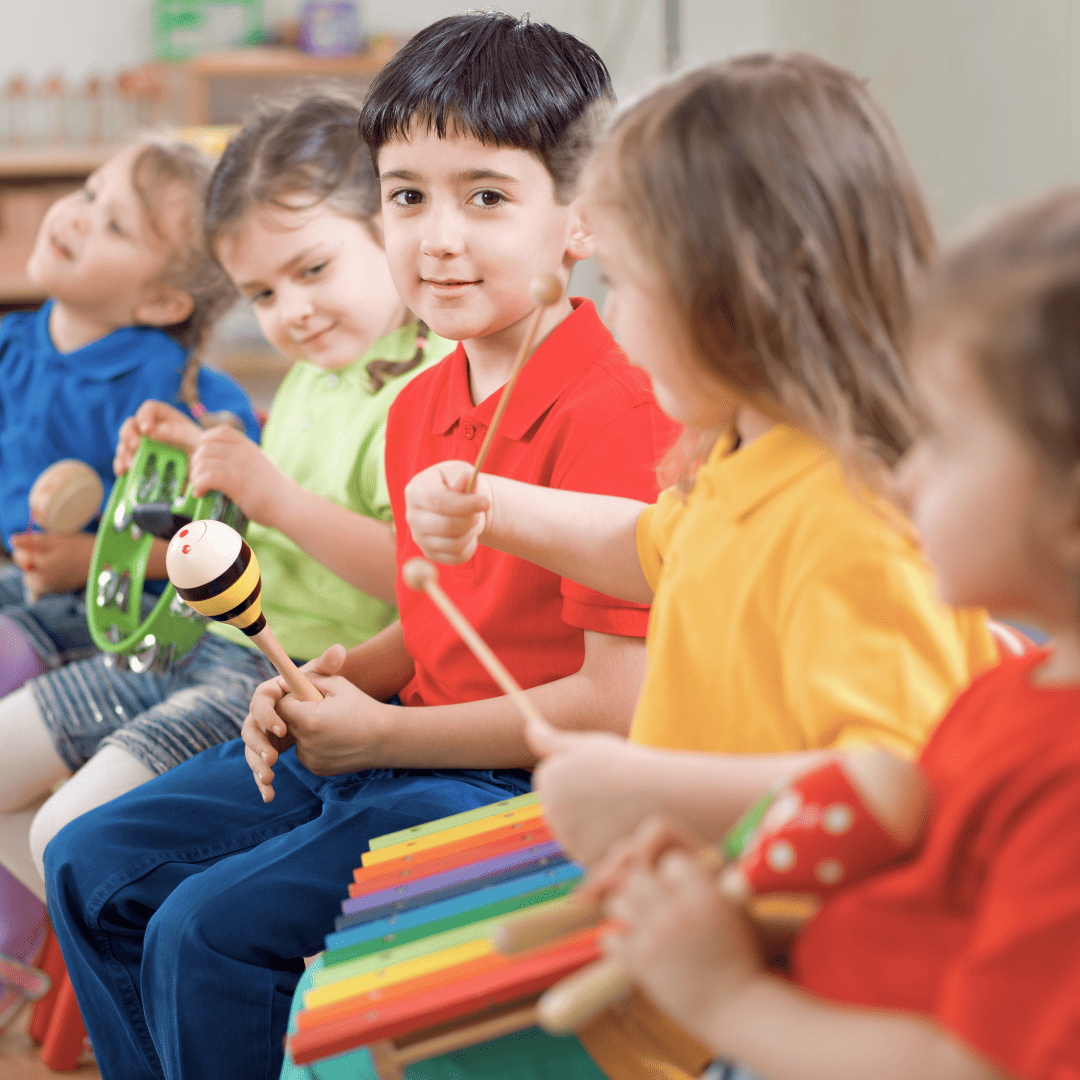 Junior Music Makers – Grades K-2
Fall Session begins September 7
Description: This weekly offering is a fun and interactive combination of music, play, and literacy for younger children. Children will experience movement through singing, movement, playing instruments, and reading literature.
Instructor: Hannah Whitson
Class Meets: Thursdays 4:00 – 4:45 PM
Register Below


We are proud to offer Kindermusik® classes at the Community Music Conservatory! Kindermusik® provides joyful, engaging activities to promote school readiness, lifelong learners, and a more confident, kinder generation.
Offerings:
Mommy & Me
More than just a sing-a-long. You'll sway, shake, tap, imagine, connect, create, and so much more to pump up your child's early brain development. Kindermusik Educators are committed to making classes joyful and beneficial for everyone, including grownups. At the end of your Mommy and Me class, you'll take home practical strategies to help fuel your child's early brain development and keep those priceless musical memories going. This program is $96 for one month (4 weeks) of classes and is a month-to-month enrollment.
Monthly payment plans are available. Contact conservatory@reillyartscenter.com to inquire.
Register Below


Grant support provided by: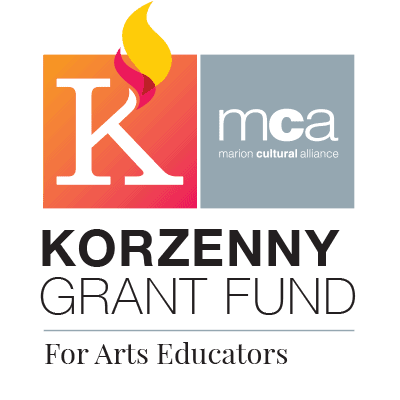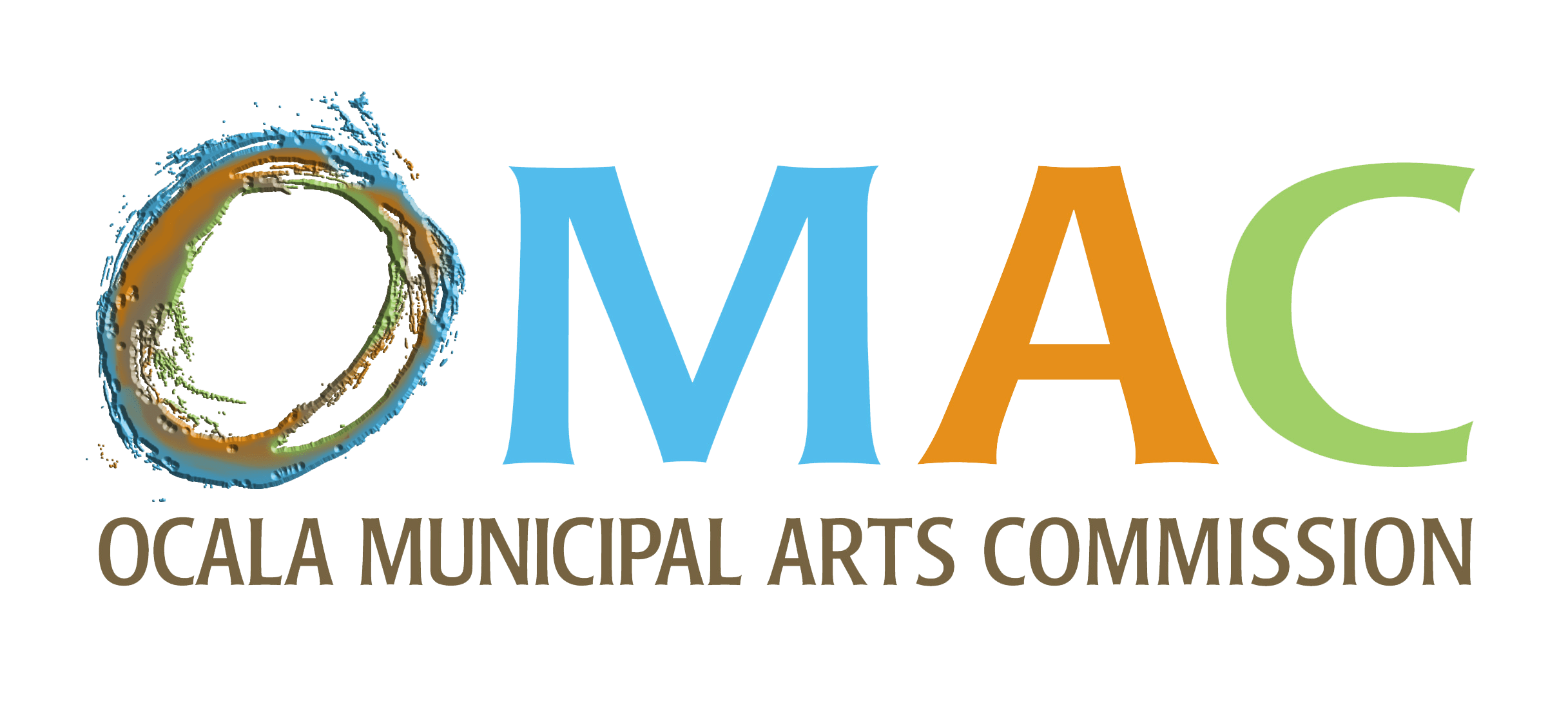 Ocala New Horizons Band at the Community Music Conservatory
Open to Adult beginners
Ocala New Horizons Band at the CMC is an education-based community ensemble where adults of all musical abilities can gather together and make music! Led by experienced director and educator Jack Covell, participants will work on basic instrumental technique, build music reading skills, and make music in a fun and inspiring social environment.
This is a part of the New Horizons International Music Association, an international non-profit organization committed to New Horizons' philosophy of music-making and undertaking initiatives designed to support the development and growth of New Horizons music organizations. NHIMA fosters a positive atmosphere for creating new adult bands, orchestras, choruses, and other music groups, expand music-making opportunities for adults, and to provide services of interest to adult music groups and individual members of NHIMA.
Interest meeting: Wednesday, September 6, 2023  or Monday, September 18, 2023 from 11 AM to Noon at the Reilly Arts Center. Instrumental rentals and purchases will be available at the interest meeting! Refreshments provided. RSVP here
Age: 18+ (younger by audition)
Participant Requirements: Must have instrument – Instrumental rentals and purchase options are available.
Instrument Rental or Purchase
Our Supporters

The LILAC Foundation designated an initial gift of $300,000 to support the Community Music Conservatory and continue to provide strong support to build programming and support scholarships for students. The LILAC Foundation supports arts and education primarily in Central and South Florida. "Art moves us. Be it film, music, sculpture, a painting, or simply great design incorporated into an everyday item, art ties us to our senses and humanity like nothing else. Grant opportunities are by invitation only, focusing on arts and education."
Annual Scholarship and Programming Donors
A special thanks to the following businesses, foundations and individuals who have provided funds to support programming and scholarships in the past season.
David Treitel and Carla D'Andre
R.J. Jenkins and Todd Rudnianyn
The Sexhauer Foundation
Dr. Ali and Sonya Nasser
The LILAC Foundation
SouthState Bank
HDG Hotels
Education Consortium Donors
The consortium is a group of donors who have given $10,000 or more to support the Conservatory's equipment and facilities while ensuring its important community mission and programming for years to come.
Grace Dunlevy and Bob Levenson
William and Cindy Nassal
Tom Dobbins
Ways to Give
Supporters of the Community Music Conservatory create a solid foundation for several programs that will become an established part of the musical community of Ocala. By investing in the availability and quality of music education, as well as the fundamentals of music and music appreciation, we can and will inspire more Ocala residents to take part in the arts, and provide more opportunities for marginalized and/or underserved groups to participate in the arts. Click here to fill out a sponsorship form.
Completed forms can be emailed to Pamela@reillyartscenter.com

Sponsor a Student Scholarship
Full Year Conservatory Scholarship – $1,800
This is a full year (3 semester) tuition scholarship and instrument stipend. Funds from this scholarship are applied to a full year of any class, and included instrument stipend will be applied to the cost of obtaining an approved musical instrument.
Partial Year Conservatory Scholarship – $600
This is a four month (1 semester) tuition scholarship and instrument stipend. Funds from this scholarship are applied to a single semester of any class, and included instrument stipend will be applied to the cost of obtaining an approved musical instrument.
Partial Year Tuition Scholarship – $450
This is a four month (1 semester) tuition scholarship that students can apply to any class.
Instrument Scholarship Fund – Amount up to you!
This scholarship fund is used on a case-by-case basis for students in need of financial assistance in obtaining a musical instrument of suitable quality, for use in any class in which they are enrolled.
General Programming – Amount up to you!
This scholarship fund is used to support additional costs within the Conservatory. Costs may include: piano tuning, instrument and equipment maintenance, purchase of teaching materials and curriculum, purchase of classroom furniture such as children's chairs and music stands, purchase of instruments used for ensemble and group teaching, funding for educational outreach, funding for philanthropic endeavors, and more.
Teaching Studio Sponsorship – $25,000
Includes a 5-year sponsorship recognition
Join the Education Consortium – $10,000
A central tenant of our expansion is the new Community Music Conservatory, a gift of the David and Lisa Midgett Foundation. The Conservatory's mission is to provide accessible music education for all with excellent and innovative programming. Launch offerings include Buckets and Boom Sticks, a percussion-oriented class to create a love for music and performance in children, Class Guitar for youth and adults, and fundamental music classes like Music Appreciation and basic Music Theory for all ages.
With the Foundation's initial gift of $300,000 to establish this incredible musical asset for Ocala, we are seeking 25 gifts of $10,000 and above to further support the brick and mortar, and enshrine programming for the first five years.
Donors joining this special consortium will be recognized in a unique and prominent place in the Reilly Arts Center's new lobby.
Sponsorship is 100% tax deductible and includes sponsor recognition at the level of giving.
Interested in learning more, contact Pamela Calero Wardell at pamela@reillyartscenter.com
Scholarships
The Ocala Symphony Orchestra and Reilly Arts Center's mission is to connect as many people to music and the arts as possible. The Community Music Conservatory is a professionally run music school, and provides scholarship opportunities to students wishing to participate in group classes or private lessons. Scholarships are limited and awarded based on financial need and merit. Applications are reviewed at the beginning of each month.
Full Year Conservatory Scholarship – $1800
This is a full year (3 semester) tuition scholarship and instrument stipend. Funds from this scholarship are applied to a full year of any class, and included instrument stipend will be applied to the cost of obtaining an approved musical instrument.
Partial Year Conservatory Scholarship – $600
This is a four month (1 semester) tuition scholarship and instrument stipend. Funds from this scholarship are applied to a single semester of any class, and included instrument stipend will be applied to the cost of obtaining an approved musical instrument.
Partial Year Tuition Scholarship – $450
This is a four month (1 semester) tuition scholarship that students can apply to any class.
Summer Camp Scholarship – $75 to $150
Choose to sponsor a student's summer camp tuition. 
Instrument Scholarship Fund – Amount up to you!
This scholarship fund is used on a case-by-case basis for students in need of financial assistance in obtaining a musical instrument of suitable quality, for use in any class in which they are enrolled.
Apply
Download Community Music Conservatory – 2023 Financial Aid Application Here
Please email the completed application to Margaret@reillyartscenter.com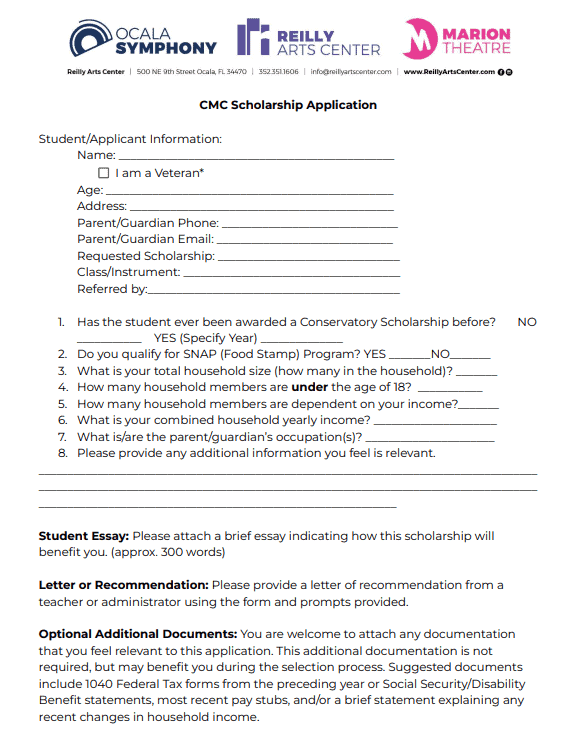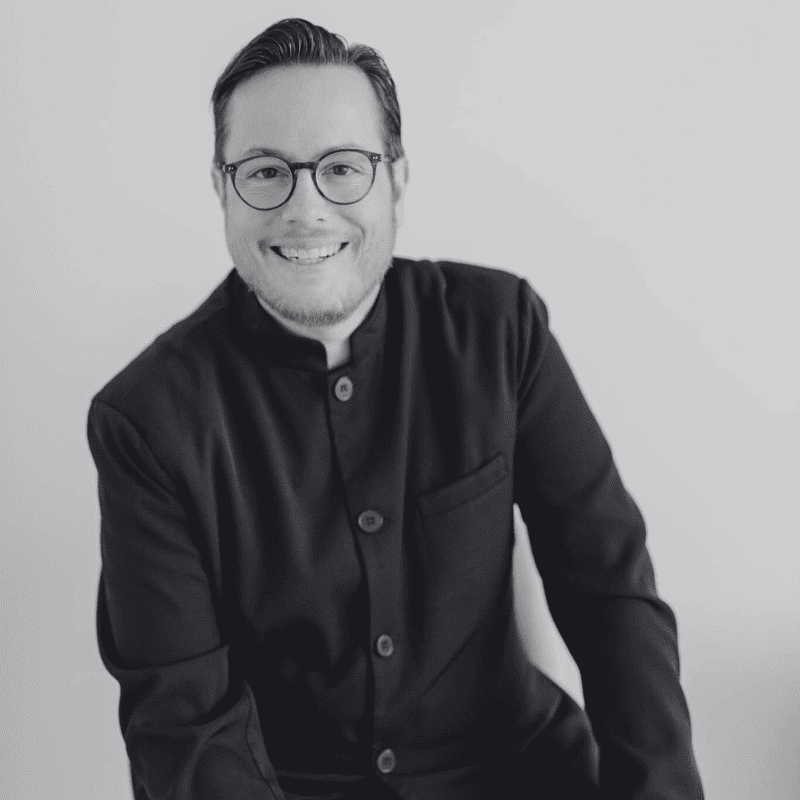 Matthew Wardell, DMA
Artistic Director
Email
MATTHEW WARDELL (b. 1983) began his tenure as Music Director and Conductor of the Ocala Symphony Orchestra in 2009. When appointed Music Director of the Ocala Symphony Orchestra, the Ocala Star Banner declared, "Wardell brings an impressive resume of musical and conducting training … Maybe more important than his musical credentials is Wardell's youthful enthusiasm and unabashed zest … Wardell is not only a daring and dynamic choice as the Ocala Symphony Orchestra's new conductor, but a smart one."
Born in Jacksonville, Florida, Wardell began his undergraduate work in percussion and composition at the University of Florida and received his Bachelor of Music cum laude at the University of North Florida working under Charlotte Mabrey. Wardell continued his education by earning a Master of Music at the University of Florida and is currently completing his Doctor of Musical Arts (DMA) degree there with his mentor, Raymond Chobaz. Wardell has served as a guest conductor with the Charlotte Symphony Orchestra, Gainesville Orchestra, Florida Youth Symphony Orchestra, and the Ocala Civic Theatre. In addition to purely orchestral pursuits, he thrives in the theatre and has appeared as conductor for the fully staged productions of A Little Night Music, La Bohème, Tosca, The Miraculous Mandarin, Phantom of the Opera, Susannah, The Impresario, Dido and Aeneas, Die Fledermaus, Sunday in the Park with George, and Camelot. As a composer, Wardell wrote music for the award-winning NPR podcast, Odd Ball, and co-wrote a new full-length score to the 1923 silent film, The Hunchback of Notre Dame.
Wardell spent five summers at the Pierre Monteux School for Conductors and Orchestra Musicians in Hancock, Maine studying with Maestro Michael Jinbo. He was fortunate to have been recognized as both an Osher and Quimby Family Foundation scholar and serve several summers in Hancock as an Orchestra Assistant. Wardell has been selected and participated in masterclasses with Keith Lockhart of the Boston Pops and BBC Orchestra, Thomas Cockrell of the University of Arizona, and studied for an extended time with conductor and composer Peter WesenAuer in Salzburg, Austria.
Matthew is a champion of all kinds of music. He believes programming traditionally core repertoire hand in hand with underrepresented composers and new music believing that good music is just that – good music. He is a member of the American Symphony Orchestra League and has served on the boards of the Ocala Municipal Arts Commission (OMAC), Young Professionals of Ocala (YPO), and The Centers. In addition to his musical pursuits, Wardell is passionate about being involved in his community and served six years as an elected official on Ocala's City Council from 2015 to 2021. He enjoys traveling, good company, and attending Jacksonville Jaguars games – and even once attended a game that the Jaguars won. In 2019, he married the love of his life and partner, Pamela Calero. Matthew and Pamela have one dog, Buckley, who is probably up to no good at this very moment. Learn more about Wardell here: https://www.matthewwardell.com/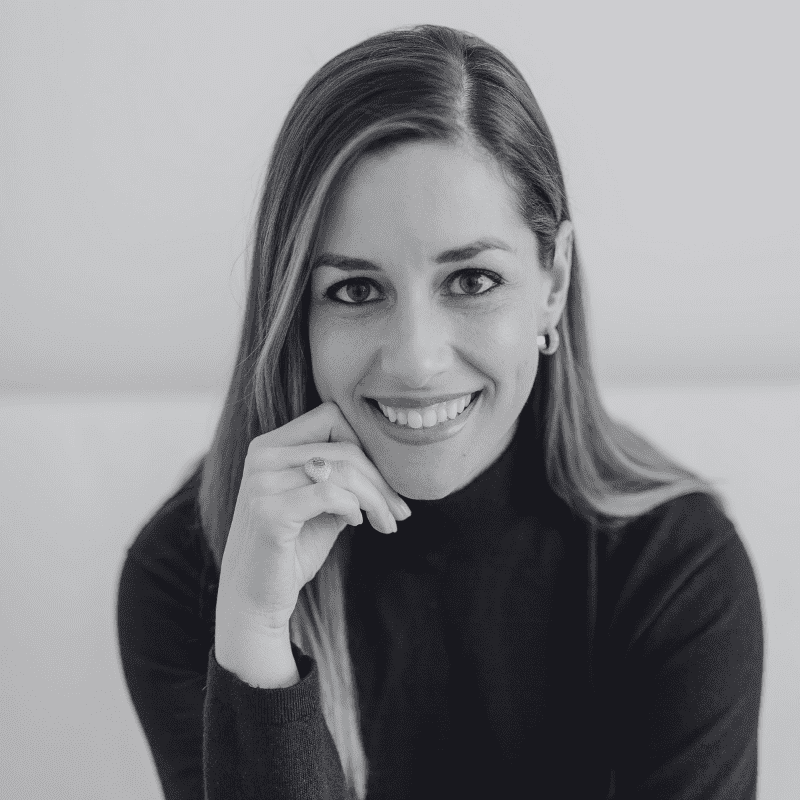 Pamela Calero Wardell
Executive Director
Email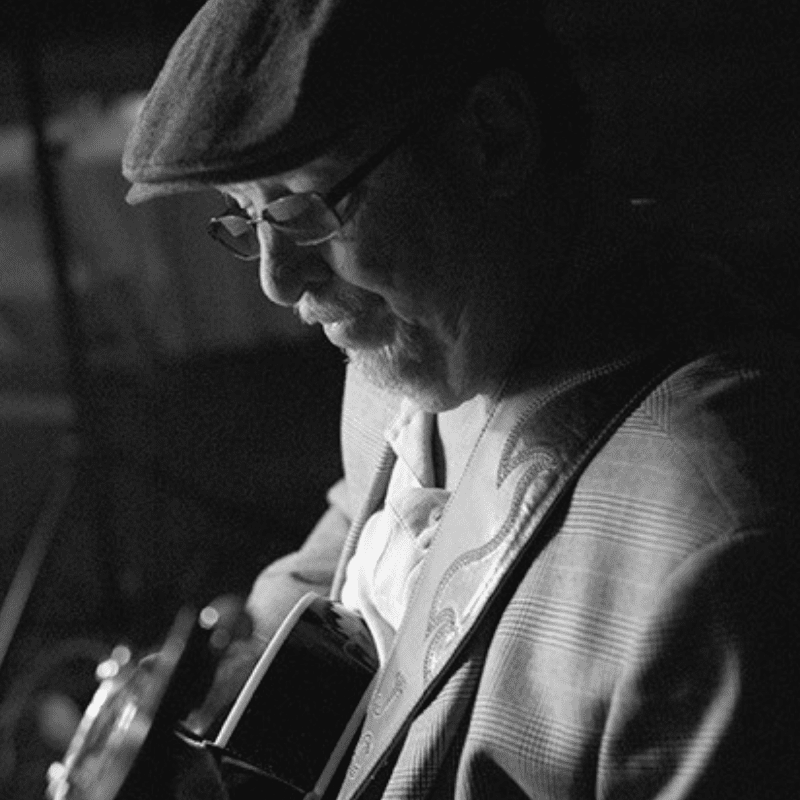 Jack Covell
Guitar
Jack Covell is a seasoned performer and educator with over 50 years of musical experience, in a variety of backgrounds.
As an educator, Jack has been professionally teaching since 1970. His educational experience includes public school, private school, collegiate level instruction, and private instruction. He has also served as a clinician to several educational institutions throughout Florida, a musical theater director, and an ensemble director for community programs!
As a Performer, Jack is multi-faceted! His guitar background includes experience in Jazz, Rock, classical, and bluegrass music, and he is also experienced in Bass and Mandolin. Outside of his string playing, Jack is also proficient in Woodwind Instruments, including Flute, Saxophone, and Clarinet!
Jack holds a Bachelor's Degree in Music Education, a Master's dEgree in Gifted Education, and is a member of the Florida Bandmaster's Association.
Margaret Dixon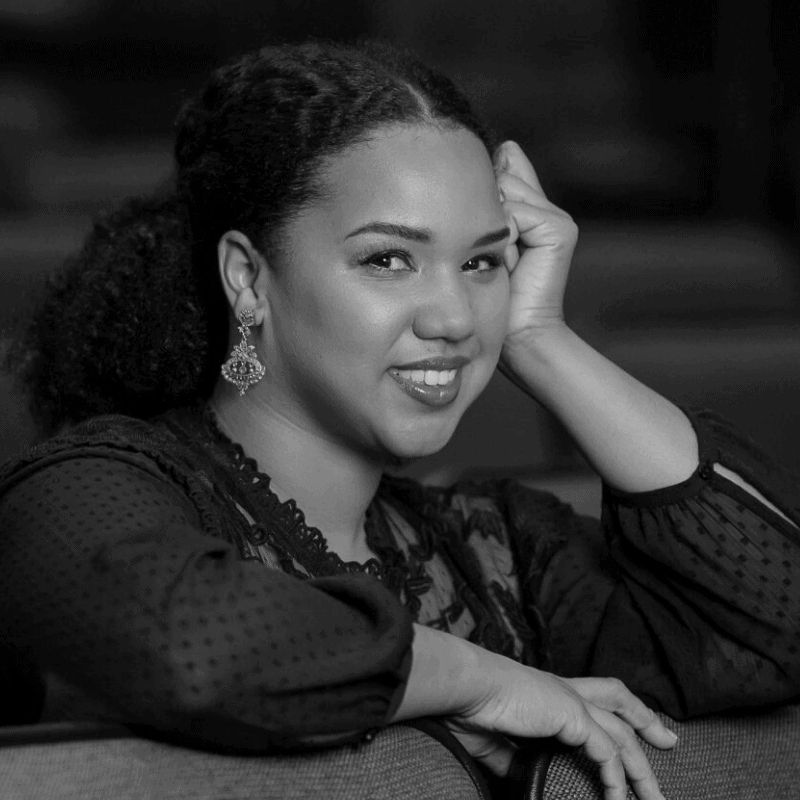 Margaret Dixon
Director of Education and Community Outreach
Email
Margaret Dixon began her relationship with the Ocala Symphony Orchestra in 2010 as a hornist on stage, but she quickly took on additional roles with the ensemble. In 2016, Margaret assumed leadership of the orchestra's Symphony for Schools Program, helping it grow to reach over thirty Marion County Schools. In 2019, her duties expanded to include the positions of Librarian and Personnel Manager of the Orchestra, and in 2021 she was appointed Director of Education and Community Outreach for the Reilly Arts Center.
Margaret has a great passion for teaching and spreading the joy of music, especially to youth and underserved communities, and having her own music school has been a dream of hers for the last decade. Music is such a natural and human form of expression, and it opens the door to such a wealth of opportunities. From traveling the world performing to singing holiday tunes with your family, the possibilities and reach of music are endless and should be available for everyone. Margaret's philosophy is that anyone can learn music, regardless of age, experience, background, socio-economic status, or physical or mental ability. You dont have to be great to enjoy making music, you only have to be willing to try. Music creates deeper personal connections, encourages community, builds confidence, inspires creativity, and even has mental and physical health benefits.
Margaret is still an active performer and music educator. She holds the Principal Horn position in The Gainesville Orchestra, the Second Horn position in the Ocala Symphony Orchestra, and she is a well-known and regularly requested performer throughout North-Central Florida. She has also performed with Orchestras in the surrounding states, recorded with Carl Fischer and the Trade Winds Ensemble, and has played in numerous performances around the world.
Margaret has a successful private studio of students of varying abilities and age ranges, and she currently holds the position of Adjunct Professor of Horn for the College of Central Florida. She provides group coaching at several local middle and high schools, and she has worked extensively with local collegiate institutions, including Santa Fe College, College of Central Florida, and the University of Florida. Margaret's younger students are typically the top performers in their county and in the state, many have received college scholarships and have gone on to pursue successful careers in music performance and education. Her adult students are all active players in their respective communities, and they always have a great time!
Margaret's business experience includes several years managing the former music school and retail store Great Southern Music. It was in this position that Margaret honed her leadership, organization, and communication skills, and learned first hand the pitfalls of the typical music school.
Margaret has had the privilege of studying with some of the finest horn players in the country, including renowned teachers and performers Lowell Greer, Michelle Stebleton, Michelle Baker, Joseph Anderer, and Robert Watt. Margaret holds a Bachelor's in Music from the University of Alabama where she studied with Professor Charles "Skip" Snead, and a Master's Degree in Music from the University of Florida where she studied with Dr. Paul Basler.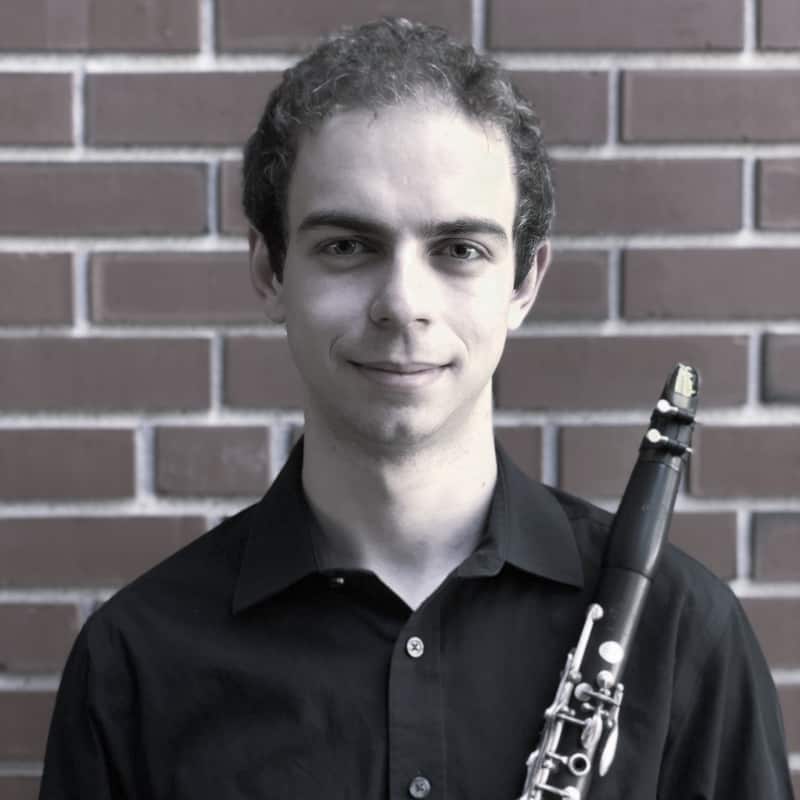 Aaron Janosa
Clarinet & Saxophone
Mr. Aaron Janosa is the Director of Music at North Marion High School, and oversees all aspects of the music department. He directs the "Colt Stampede" Marching Band, Concert Band, and Jazz Band.
Mr. Janosa received his Bachelor of Music in Music Education and Certificate of Music Performance from the University of Florida. He actively performed in the UF Wind Symphony and Clarinet Choir, among other ensembles, playing under the baton of such conductors as Dr. David Waybright, Thomas Leslie, Christian Schulz, and Harvey Hermann. He recorded two albums on the Mark Custom label, one as basset horn soloist on Christmas Clarinets, and one as rotating principal on Masks and Machines. He studied clarinet under Mitchell Estrin, and has participated in masterclasses with artists Stephen Williamson and Julian Bliss.
Mr. Janosa's professional affiliations include National Association for Music Education, Florida Music Education Association, Florida Bandmasters Association, and the International Clarinet Association.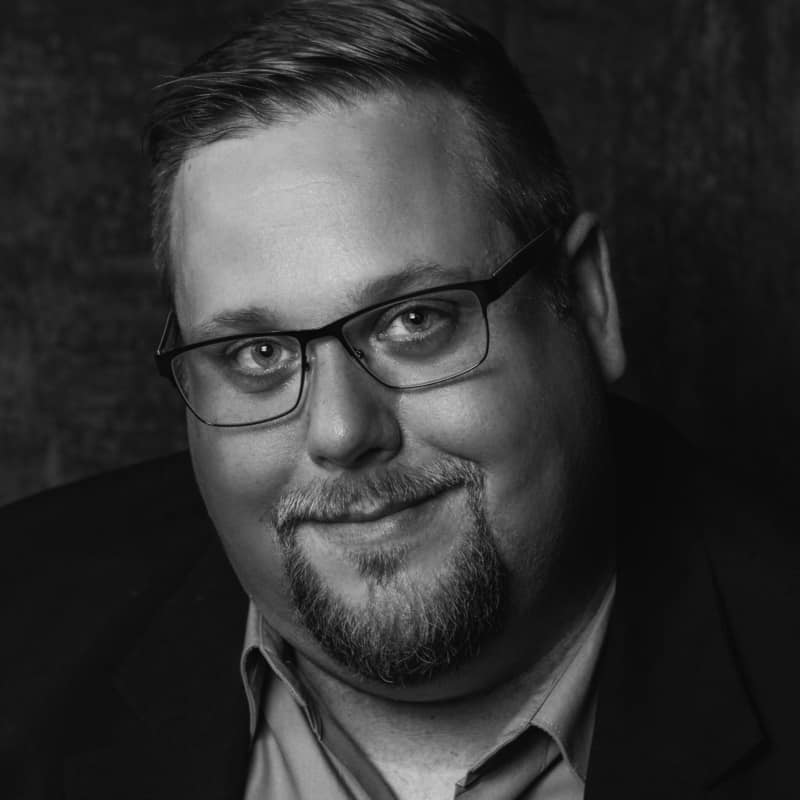 Brandon Loos
Trumpet
Email
Accomplished trumpet artist, Dr. Brandon Loos has captured the attention of audiences throughout the United States and abroad with his musical mastery and finesse. He has appeared as a member of successful big bands, regional broadway show pit orchestras, chamber ensembles, and symphonic orchestras. Brandon has had the good fortune to travel extensively overseas as a musician performing in Spain, Ischia, Italy, Austria, and Argentina. Dr. Loos has shared the stage with world renowned artists including James Morrison, Jens Lindemann, Thomas Gansch, and Hans Gansch. In addition to performing with the Ocala Symphony Orchestra as a core member and serving as Artistic Director and conductor for Volusia Community Arts, Brandon is equally committed to his profile as a teacher, working with students of all ages and abilities through his position at the College of Central Florida and an active private studio.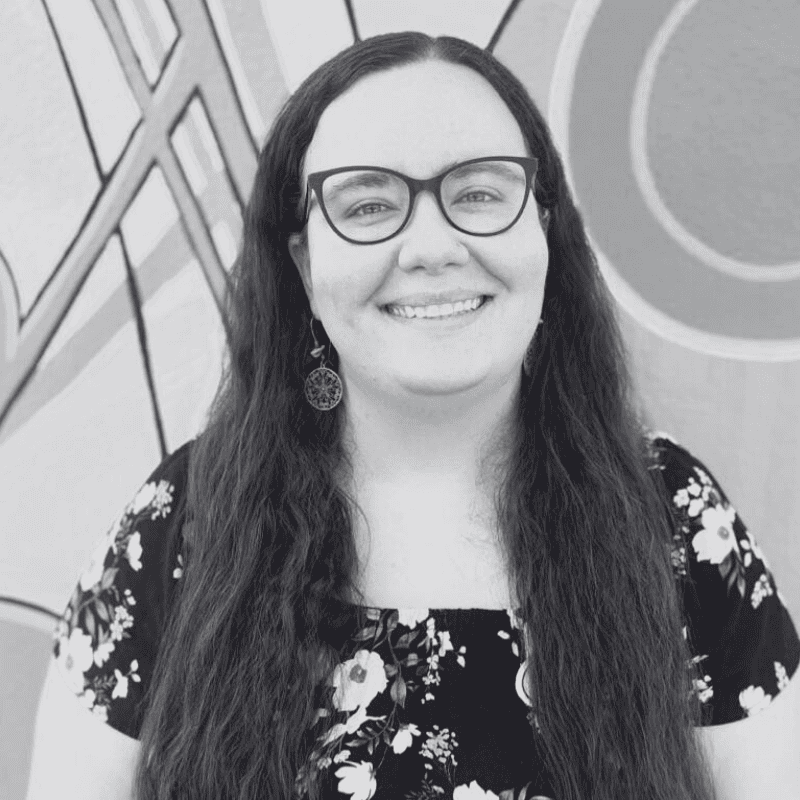 Meagan Miles
Piano, Guitar & Ukulele
Email
Ms. Miles has always had an enormous love and passion for music. She studied music theory, sight singing, ear training, music literacy, composition and performance in College. Her love of performing started at age 15 when she performed in New York City in Eric Whitacre's production "Paradise Lost: Shadows and Wings". From there she performed in cities around America such as New Orleans, Atlanta, Tampa and Disney World in Orlando. She has also played in marching band, wind symphony, jazz band and drum corps.
Performance was her main passion until she was given the opportunity to teach private lessons in College. This job changed her heart from wanting to perform, to instead desiring to teach and inspire children with music. She has taught Middle School and High School Choir at Ambleside School of Ocala for 5 years and has taught privately for 8 years.
Ms. Miles offers lessons in piano, voice, clarinet and saxophone.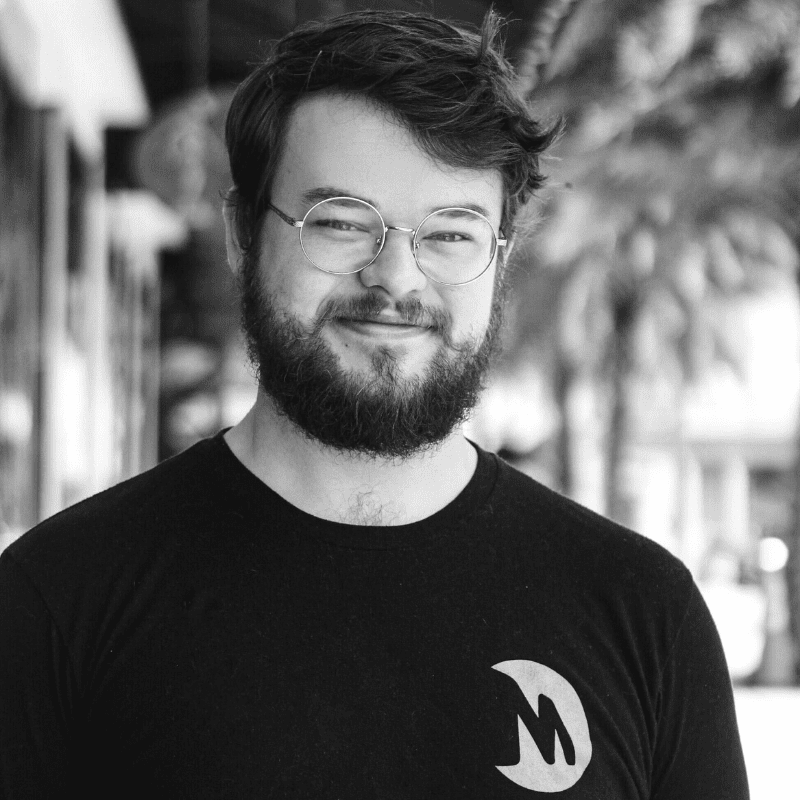 Forrest Andre
Executive Coordinator, CMC
Email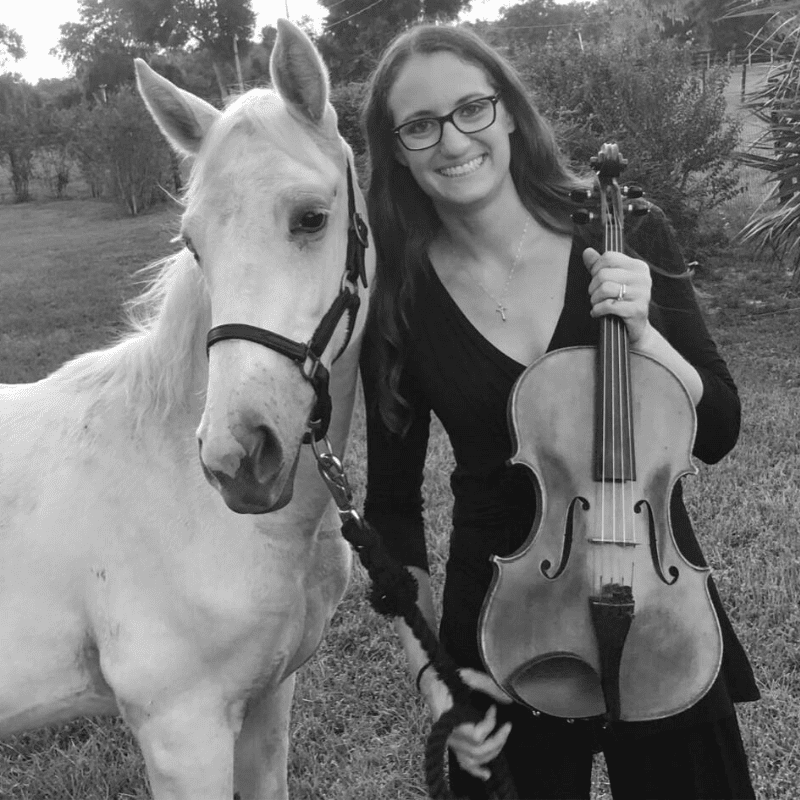 Kathryn Poore
Viola/Violin
Kathryn Poore has been teaching private violin and viola lessons since 1998, and has been playing viola in professional orchestras since graduating high school in 2001 as a core member and sub. She is currently the Principal Violist of the Ocala Symphony Orchestra. She has a Master of Music in Viola Performance from the University of Georgia, and a Bachelor of Music Performance, magna cum laude, from Columbus State University. Kathryn has also attended the prestigious Aspen Music Festival and School, 2003. As an instructor, Kathryn teaches each student as an individual. Everyone learns differently, and Kathryn really enjoys structuring lessons to best meet the needs of the individual. In addition to The Music Den, Kathryn also teaches lessons at Stetson University's Community School of Music.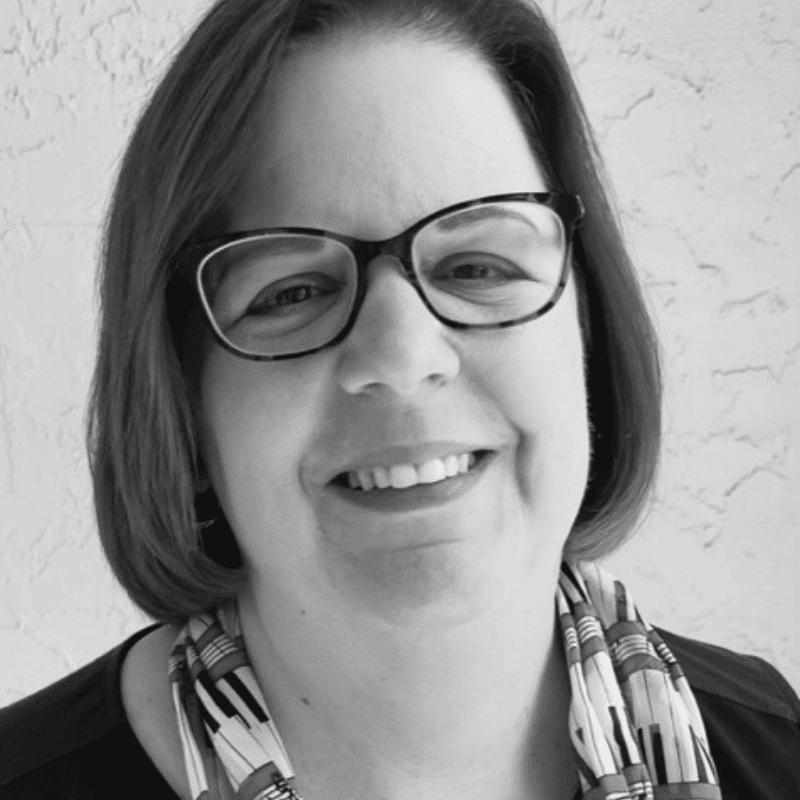 Laurie Rangel
Piano
Email
Laurie Rangel has had a love of music since she was a young child. She has played piano and organ since the age of 7 and participated in band programs throughout middle and high school. She received her Bachelor of Arts degree in Music – Piano Performance, with a minor in education, from St. Mary's College of Maryland. She later attended Shenandoah Conservatory in Virginia and completed Masters' level courses in Music Education. She also holds a Masters' degree in Supervision and Administration from University of Phoenix.
Laurie has been an elementary music teacher in public schools for the last 18 years here in Marion County. Previously, she taught middle school chorus in public school in Maryland. In addition, she has taught private piano lessons for over 30 years and is the Organist and Choir Director at Silver Springs Shores Presbyterian Church.
Ms. Rangel is married and has 2 grown children. In her spare time, she enjoys reading, watching movies, and attending music performances of all kinds. She enjoys teaching music to all ages and has worked with students from ages 5-80+ throughout her musical career. Her belief is that anyone can learn to make music and hopes to instill a lifelong love and appreciation for music with her students.
Cody Ray
Low Brass: Trombone, Baritone, Euphonium, and Tuba
Cody Ray attended Fort Clarke MS and Buchholtz HS before earning degrees in instrumental performance and music theory/composition from the University of Florida. In the past he has performed with the Coastal Symphony of Georgia among others, and is currently in his 15th season as Principal Tuba of the Gainesville Pops! Wind Symphony, as well as founder of the Tree City Brass. Mr. Ray serves the Gainesville community as a low brass specialist in Alachua County schools while offering private lessons for beginning to advanced brass instruments, bass guitar, beginning guitar, preschool to elementary piano and is pleased to bring his unique and energetic style of teaching to Ocala's Community Music Conservatory.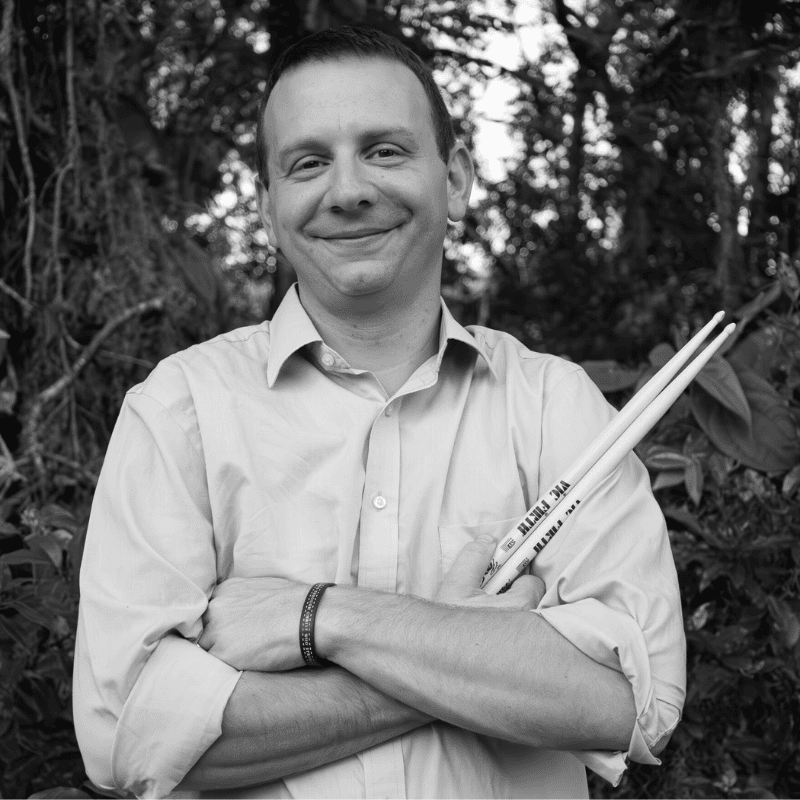 Jimmy Sexton
Percussion
Email
Mr. Jimmy Sexton, born in Avon Park, Florida, began his music career at an early age. He participated in middle and high school band, receiving multiple superiors at the state level. He also spent time training with Drum and Bugle Corp.
He earned his associate's degree from the College of Central Florida and then transferred to the University of Florida to study music education. He served as a member of the Florida Drum Line. He studied under the direction of Dr. Kenneth Broadway, Dr. Jay Watkins, and Dr. Chip Birkner. During his time there, he performed various recitals as well as performances with the UF University Symphony Orchestra. Mr. Sexton has spent time over the past ten years as a Drum Technician for Forest and Vanguard High Schools, as well as Howard and Grace Middle Schools. He actively plays in the Kingdom of the Sun Concert Band in Marion County. Mr. Sexton has experience offering percussion lessons to primary, middle, and high school students. He previously offered private lessons through the First Baptist Church School of Music and Grace Christian School.
When Mr. Sexton is not offering lessons, playing for the worship band at church, or participating in other various musical endeavors, he enjoy spending time with his wife and three children.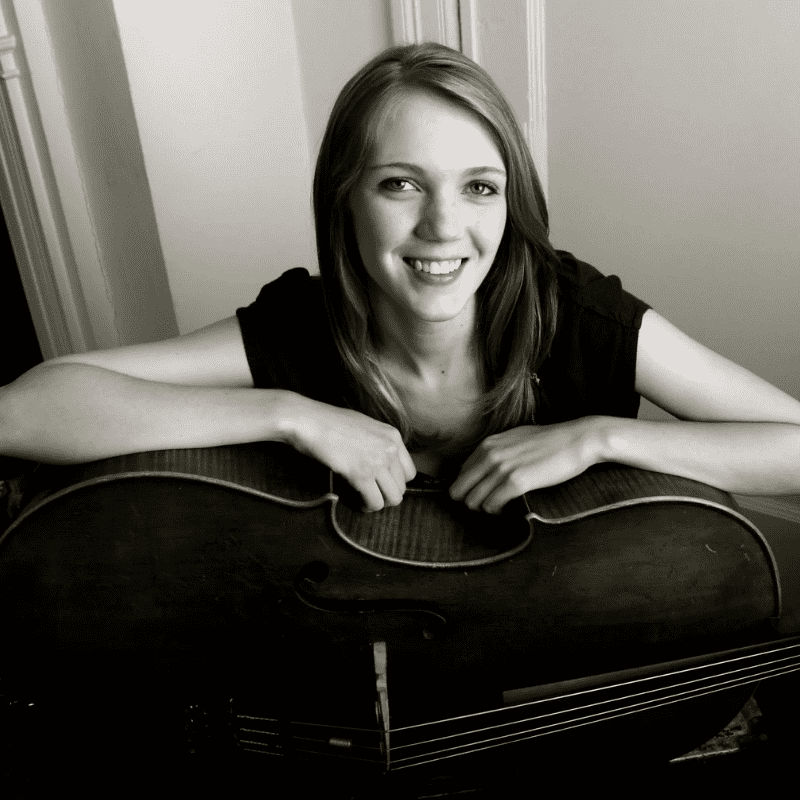 Emily Smith
Cello
Email
A recent arrival in Gainesville, cellist Emily Austin Smith maintains an active performing and teaching career. She completed bachelors degrees in Cello Performance and English and a Masters Degree in Cello Performance and Pedagogy at the Peabody Institute of The Johns Hopkins University in Baltimore, Maryland, where she studied with Alan Stepansky, former Associate Principal Cellist of the New York Philharmonic. Emily has recently performed with the Fayetteville Symphony and the Duke New Music Ensemble, and as a substitute with the North Carolina Symphony and Carolina Ballet. She served as both cellist and Executive Director of WireTap New Music, a group she co-founded in Durham, North Carolina.
Emily has performed in a number of orchestral and chamber music festivals across the country, including Spoleto Festival USA, Weekend of Chamber Music, Texas Music Festival, Bowdoin International Music Festival, ENCORE School for Strings, and the Indiana University Summer String Academy. She has worked with members of the Takacs, Emerson, Cavani, Lark, Shanghai, Juilliard, and Jupiter Quartets, and has studied with Alison Wells, Amir Eldan, Brinton Averil Smith, and Eric Kim, and participated in masterclasses with Richard Aaron, Susan Moses, Gary Hoffman, and Jeffrey Solow. During her time at the Peabody Institute and The Johns Hopkins University, Emily was the recipient of the B&O Women's Club Award in Performance and a member of the Phi Beta Kappa society.
Emily has taught students of all ages and levels in a variety of settings, and has received Suzuki teacher training from esteemed pedagogues Dr. Tanya Carey and Ronda Cole. She completed her Master of Music degree in Cello Performance and Pedagogy at the Peabody Institute in Baltimore, Maryland, where she was mentored by Bai-Chi Chen of the Peabody Preparatory Institute. While in Baltimore, Emily taught in the orchestral program at the Baltimore School for the Arts and was a regular substitute teacher at OrchKids, the Baltimore Symphony's El Sistema inspired after-school orchestra program. Emily also served as an administrator at Kidznotes, an El Sistema inspired program in the Triangle region of North Carolina.
When she is not performing, teaching, or practicing cello, Emily enjoys cooking, reading, and spending time outdoors with her husband and scruffy shelter dog, Lily.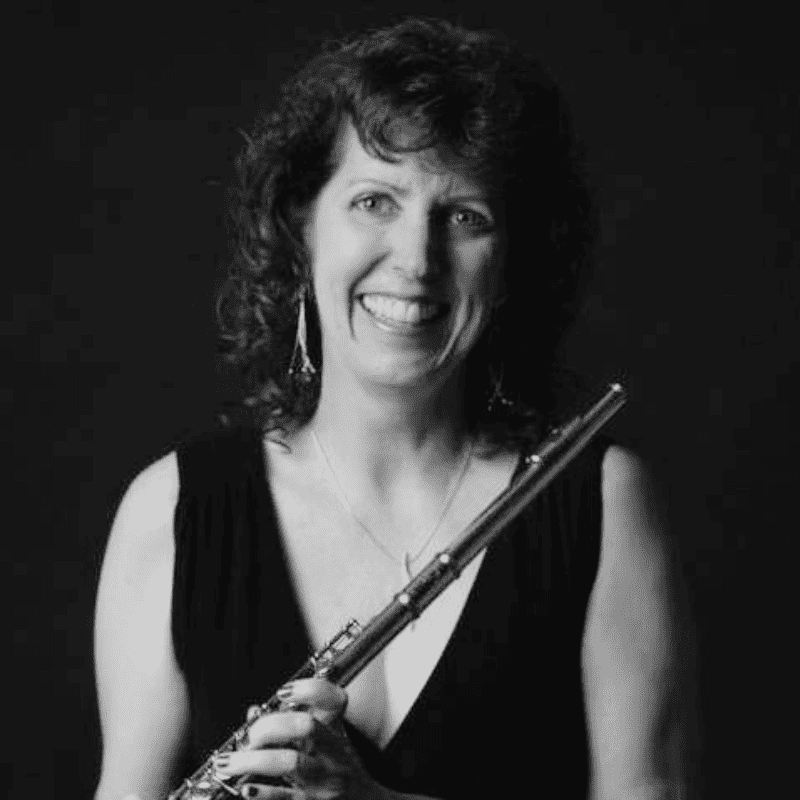 Anne Suefert
Kindermusik
Anne Seufert has had a lifelong passion for music that she wishes to ignite within the children of her community. From her earliest memories, growing up in the Miami, Florida area, music has filled every facet of her life. She learned to play guitar and to sing at her mother's knee, which formed a treasured bond throughout their years together. Miss Anne joined the junior high band playing the flute starting in seventh grade and transitioned to marching band in high school. She continued with the flute in a Woodwind Ensemble in college while studying Music Ed. While there she also joined the college choir with her mother and her brother which was a tremendous family bonding experience. Miss Anne continues to pursue music for her own enjoyment and loves to play guitar and sing for people in venues around Ocala and for her fellow mothers of twins, in the state organization, in the role of chaplain.
Anne has been working in Early Childhood Education, at Maplewood Elementary School, since 1994. After almost 20 years, she decided to take her affinity for working with young children and her passion for music and combine the two into one joyful venture. She also wanted families to have the opportunity to form their own special bonds over music, understanding how intrinsic the love of music is in babies and young children. So, in 2013, she became a certified Kindermusik Educator and started her own business as Kindermusik with Miss Anne, serving many families over the years. She also continues to work at Maplewood in her current position in the music department.
The Kindermusik philosophies were quickly embraced by Miss Anne. Their approach to teaching the whole child made perfect sense. There is such excitement in watching the benefits of Kindermusik come to fruition through the noticeable growth of the children in the program. As stated on Kindermusik International's website, "Combining read-aloud, singing, dancing, and tapping the imagination at every juncture is multi-sensory learning at its best! Kindermusik's curricula stimulate multiple areas of the brain at once, heightening age-appropriate development in every lesson."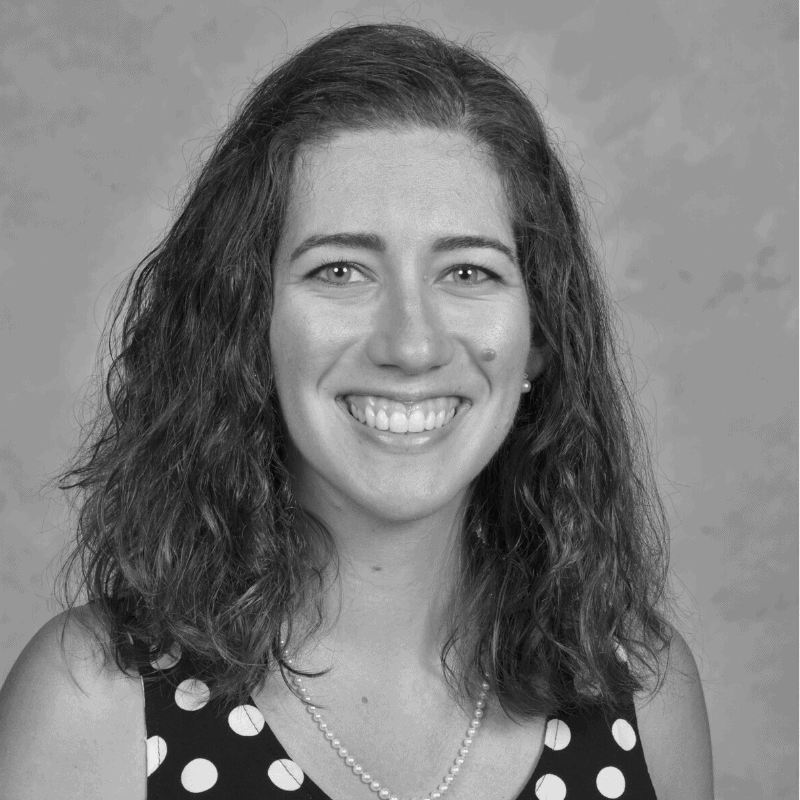 Hannah Whitston
Junior Music Makers
Hannah is a music educator at Madison Street Academy. She serves as Vice President of the Marion County Music Association, FMEA (Florida Music Education Association) member and a board member of FAFO. Hannah also directs several after-school music ensembles and produces performances with her student groups. Hannah has worked as a mentor at Madison Street and has also worked with local high school marching band programs.
Are you interested in learning more?
Please fill out the form below to stay updated on classes, schedules and more regarding the Ocala Symphony Orchestra Community Music Conservatory.
Music Conservatory Interest