The OSO's 2020-2021 Season

The OSO Subscription Concert Series
The Ocala Symphony Orchestra has made the difficult decision to shift the scheduled 2020-2021 subscription series to the 2021-2022 concert season. With the impacts of reduced audiences and the large volumes of performers needed for the scheduled programming, the OSO made this decision to move the subscription season rather than sacrificing any repertoire. We will have the same concerts, just a year into the future!
Special OSO Concerts 
In lieu of these large performances, the OSO will continue the year with a calendar of flexible and unique performances. Planned programming includes the OSO on the GO series which will feature OSO trios and quartets performing out in our community, Chamber music performances designed for limited audiences, and the continuation of our Youth Outreach programming.
This flexibility will allow the OSO to maintain our core mission of bringing cultural opportunities to our community through music, while retaining the ability to quickly supplement programming as COVID-related impacts become more known. To ensure that we are planning performances that are possible within the most current guideline, tickets for these events will go on sale within 45 days of the concert.
Upcoming Events:
Saturday, April 10 | 7:30 PM – Ocala Symphony String Orchestra

Join the Ocala Symphony String Orchestra, led by music director and conductor Matthew Wardell for a night of great music! Performing the beloved Adagio by Samuel Barber, Serenade for Strings by the great Pytor Tchaikovsky and Starburst a dynamic piece by New York composer Jessie Montgomery, this concert is sure to be full of energy and vibrancy! Enjoy this concert in person with our limited-capacity seating or tune in live on the day of the performance! Sponsored by: Duke Energy, Culture Builds Florida, TD Bank, Ocala Municipal Arts Commission and COX Communications.
How to Renew for the Upcoming 2021-2022 Season!
As a current symphony subscriber you can renew your subscription starting on April 1, 2021! The patron portal is an easy place to renew your subscription tickets, please follow along with the steps below.
Log in at the top right corner of our website by clicking on the "Member Login" button and then the "Log in" button. (Your username is the email associated with your ticket purchase.)
Once the username and password are entered you should see your patron dashboard.
You will then click on "My Profile" under the "Hi ____" tab and see the Subscription Renewal page.
You will click on Renew to confirm your seats, make any note of changes and give payment.
If you experience trouble logging in please contact our box office at 352-351-1606 or via email at info@reillyartscenter.com.
The 2021-2022 Season!
Worth the wait, our 46th Anniversary Season beginning in November 2021, was put together by Maestro Wardell to feature great masterworks, hidden gems, and the best of pops with guest appearances by Nationally-renowned soloists. Following the artistic growth of our orchestra and the expansion to 5 subscription concerts in 2015, our 2021-22 season will add a 6th subscription concert! This means even more great artistic output by the musicians of the Ocala Symphony Orchestra as they grow and play more incredible music for you to enjoy!
Now, more than ever, it's a great time to be a season subscriber! While our single ticket prices per concert will increase to keep up with increasing costs of live artists, music royalties, and productions, we are offering significant discounts to our season subscribers!
By being an OSO Subscriber, you save as much as 42% over buying single tickets! As a newly added benefit, our OSO's season subscribers will receive early ticket access to other Reilly Arts Center events that include local, regional and national artists.
The Concerts
Variations on Opening Night
Saturday, November 20 – 7:30 PM & Sunday, November 21 – 3:00 PM
Your full orchestra returns to the stage in epic fashion as we unveil the Reilly's historic expansion and welcome a new season of great music. Pianist Jasmin Arakawa joins the OSO for Rachmaninoff's Rhapsody on a Theme of Paganini and the variation theme continues with music from Ives and Elgar's Enigma Variations.
Pops! Goes the Holidays
Saturday, December 4 – 7:30 PM & Sunday, December 5 – 3:00 PM
Back by popular demand, the OSO will bring Howard Blake's score to the animated short film, The Snowman, to life, live along with the film itself! You can expect sleigh rides and sing-alongs, and hopefully a reading of 'Twas the Night Before Christmas, too!
The Four Temperaments
Saturday, January 29 – 7:30 PM & Sunday, January 30 – 3:00 PM
Raymond Chobaz leads the orchestra through a psychological tour with Nielsen's incredible Symphony No. 2 – The Four Temperaments. A new work by Gainesville's Paul Richards and Liszt's Piano Concerto No. 2 with special guest Kevin Sharpe will kick off the energetic program!
90 Years of John Williams
Saturday, February 19 – 7:30 PM & Sunday, February 20 – 3:00 PM
Join the OSO in celebrating John Williams' 90th birthday with a review of his extensive film catalogue including scores from Star Wars, Harry Potter, The Patriot, Superman, Memoirs of a Geisha, Indiana Jones, Jaws, and more.
The Unfinished
Saturday, March 19 – 7:30 PM & Sunday, March 20 – 3:00 PM
The winners of our Young Artist Competition take the stage with the OSO along with Samuel Coleridge-Taylor's Ballade and Schubert's incredible B minor symphony, The Unfinished.
21st Century Anthology
Saturday, April 9 – 7:30 PM & Sunday, April 10 – 3:00 PM
Our maestro is often asked, "What works written today will be played in 100 years?" This concert is his answer! Missy Mazzoli's tribute to the city of Detroit, River Rouge Transfiguration, and Michael Daugherty's piece in memory of his father, Reflections on the Mississippi for Tuba and Orchestra, will leave you in awe during the first half of the concert. For the finale, Mason Bates' The Anthology of Fantastic Zoology will showcase every section of the orchestra as he musically illustrates the fantastical creatures of Jorge Luis Borges' 1957 Book of Imaginary Beings. This music is unforgettable and an instant masterpiece of our time.
Special Events
Symphony Under the Lights
Friday, December 3 – 7:00 PM
Hot chocolate, family, friends, and festive music! What more could one ask for? The OSO and members of the Ocala Youth Symphony bring this joyful annual free concert to the community under the incredible oaks of Tuscawilla Park. Bring a blanket or chair!
Bowie and Glass Return
Saturday, March 5 – 7:30 PM
The return of one of our favorite collaborations in the history of the OSO: The indelible music of David Bowie and composer Philip Glass. The OSO and the Voltron Collective team up to bring you Glass' Symphony No. 4 Heroes juxtaposed with the Bowie songs that inspired it (and all of us!) Originally presented in spring of 2019, this has been our most requested repeat concert – don't miss it!
Handel's Messiah
Sunday, April 24 – 3:00 PM
Our wonderful choir master and conductor, Joshua Mazur, returns to lead the combined orchestra and choir through Handel's Messiah and selection from Handel's Water Music!
Symphony Under the Stars presented by Fine Arts For Ocala
Sunday, May 8 – 7:00 PM
Event takes place at the Ocala Golf Course.
Coffee with the Conductor
Join Maestro Matthew Wardell for a cup of coffee and in-depth conversation about an upcoming OSO performance! Together you will take a closer look at how the pieces and composers are connected, crafted, and the real stories behind the music. This is an opportunity to really connect to the music before enjoying the pieces live!
November 5 – 10:00 AM
Variations on Opening Night
January 14 – 10:00 AM
The Four Temperaments with guest conductor Raymond Chobaz
February 4 – 10:00 AM
90 Years of John Williams
February 25 – 10:00 AM
Bowie and Glass Return with Adam Volpe from Voltron Collective
March 11 – 10:00 AM
The Unfinished
April 1 – 10:00 AM
21st Century Anthology

Support the Ocala Symphony Orchestra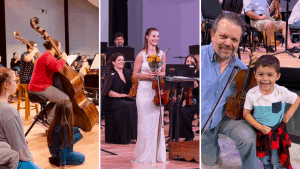 Arts for our Veterans
The Reilly partners with Vet Tix and Vets Helping Vets to provide complimentary tickets for Marion County veterans to performances that include rock, jazz, theatre, orchestra and more! Each July veterans are honored during our Red, White and OSO Blue: A Salute to Independence concert. 
Symphony for Schools
Each season, the OSO visits Marion County Elementary students for a curated music presentation. Students learn about the orchestra, hear instrument demonstrations and are welcomed to ask questions about music! 
Community Ticket Program
Through the Community ticket program, the Reilly gives tickets to local nonprofits so they can share the power of music with their clients and staff. 
Young Artist Competition
This competition invites promising young musicians from across the country to compete for the title of Young Artist Winner. Winners from the Junior and Senior categories go on to perform their concerto with the OSO at a Spring Subscription performance and receive a $1,000 cash prize. 
Open Rehearsals for Students and Families
Open rehearsals invite students and families to the Reilly Arts Center for free pizza, soda and an exciting behind-the-scenes experience as they join the OSO and Maestro Matthew Wardell during their final rehearsal before a weekend of concerts!