The 2022-2023 Season!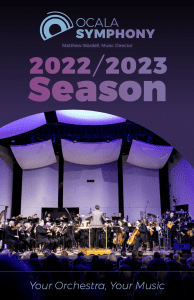 The Ocala Symphony's 2022-2023 season will feature exciting programming and world-class soloists under the baton of Maestro Matthew Wardell as he begins his 14th season with the Ocala Symphony!
Enjoy extra benefits by being an Ocala Symphony Subscriber! You can secure your favorite seats for the entire season, and save as much as 42% over buying single tickets! Subscribers are an important part of the Ocala Symphony. Consider making a donation or becoming a member! Members at the $1,000 level and above receive a pair of tickets for the subscription season and 10 tickets to use for other Reilly performances throughout the year!
The Concerts
Spellbinding Beginnings
Saturday, October 29 – 7:30 PM & Sunday, October 30 – 3:00 PM
You won't want to miss this opening concert of the season featuring the full Ocala Symphony Orchestra and some of the spookiest tone poems ever written! Dip your toe into magic with Paul Dukas' The Sorcerer's Apprentice and descend into Dante's Inferno with Tchaikovsky's Francesca da Rimini – a tale of love, betrayal, and the moaning, swirling souls of the underworld. In the second half of this spooktacular, Mussorgsky asks us to spend a Night on Bald Mountain and we'll depart into the dark with Dvořák's The Golden Spinning Wheel, a grotesque story of murder, magic, wolves, forests, and one special spinning wheel.
Pops! Goes the Holidays
Saturday, December 3 – 7:30 PM & Sunday, December 4 – 3:00 PM
Laughs and musical hugs abound at the Ocala Symphony's annual foray into the holidays with exciting and touching tributes to our favorite time of the year. Bring all your friends and family together for this perennially sold-out event!
Italian Impressions
Saturday, January 28 – 7:30 PM & Sunday, January 29 – 3:00 PM
Mamma Mia! The orchestra takes a tour of Italy with this special program conducted by Maestro Raymond Chobaz, the Ocala Symphony Principal Guest Conductor. Audiences will enjoy works by Rossini and Respighi and a special performance by Arnold Irchai, the Ocala Symphony's principal bassoonist with Nina Rota's Concerto for Bassoon and Orchestra. When this musical feast is over, you'll be speaking Italian all the way home!
The Sounds of Hollywood
Saturday, February 25 – 7:30 PM & Sunday, February 26 – 3:00 PM
Music drives the drama in this special look at some of the greatest musical scores and composers in Hollywood history. After the great success of last season's tribute to John Williams, we will widen the frame to capture some of the silver screen's most beloved and exciting scores of the 20th and 21st centuries. Incomparable soundtracks from Max Steiner, Maurice Jarre, Hans Zimmer, Bernard Herrmann, John Williams and more that will transport you to another world during this musical and visual treat!
Youthful Renderings
Saturday, March 18 – 7:30 PM & Sunday, March 19 – 3:00 PM
Schubert's overture to the Magic Harp begins a concert of endless possibilities. The winners of our Young Artist Competition – always an incredible delight to listen to – will dominate the middle of the program before Luciano Berio's Rendering closes the performance. Berio uses fragments from Schubert's incomplete tenth symphony as the structure and basis of this inventive work. Leaving Schubert's original parts intact, Berio weaves them together with a harmonic and special texture that truly feels both a part of and something completely out of this world – you're going to love it.
(Pop) Music America
Saturday, April 29 – 7:30 PM & Sunday, April 30 – 3:00 PM
Take a musical trip from New York to the coasts of Hawaii! We'll make a couple of stops on Broadway with a new full symphonic treatment of Phantom of the Opera and be joined by the incomparable soprano Elizabeth Graham for selections from Gershwin's Porgy and Bess, visit the humpback whales of the coasts of Hawaii in Stella Sung's Kohola with beautiful images and video, and finally take in Michael Daugherty's new work, Fifteen a symphony inspired by the art of Andy Warhol, famous for being the world's most recognizable proponent of Pop Art, and taking the title from his wry quotation, "in the future, everyone will be world-famous for 15 minutes."
Special Events
Red, White and Ocala Symphony Blue
Sunday, July 3 – 3:00 PM
Celebrate our nation's 246th birthday with the Ocala Symphony as we present your favorite music that reverberates red, white and blue. Patriotic marches, film music from The Patriot, and a special salute to our troops are just the beginning!
Handel's Messiah
Sunday, November 20 – 3:00 PM
Our wonderful chorus master and conductor, Joshua Mazur, returns to lead the combined orchestra and chorus through Handel's Messiah and more.
Symphony Under the Lights
Friday, December 2 – 7:30 PM
Hot chocolate, family, friends, and festive music! What more could one ask for? The Ocala Symphony and members of the Ocala Youth Symphony bring this joyful annual free concert to the community under the incredible oaks of Tuscawilla Park. Bring a blanket or chair and enjoy!
Young Artist Competition: Honors Recital
Saturday, January 14 – 3:00 PM
The Honors Recital features the finalists from our 32nd Annual Young Artist Competition. These talented young musicians, from our Junior division and Senior division, take the stage to perform their concerto for a live audience. The winners of this competition will go on to perform as a soloist at the March subscription performance. Subscribers will receive complimentary tickets to the Honors Recital.
Purchase A Season Subscription
Join us for our most exciting season yet! Whether you choose to attend our 7 PM Saturday concerts or 3 PM Sunday concerts you'll be in for a great season of masterworks, pops, and guests soloists! Purchase online or call our box office at 352-351-1606 starting July 5, 2022.
Renew Your Subscription Starting May 2022
As a current symphony subscriber you can renew your subscription until July 5, 2022. Please call our box office at 352-351-1606 Tuesday through Friday 10 AM to 2 PM and we can fill out a renewal form for you over the phone. You can also print out the renewal form from page 13 in the brochure and drop if off or mail it to us.
Subscribers can also use the patron portal starting mid-May. This portal is an easy place to renew your subscription tickets, please follow along with the steps below.
Log in at the top right corner of our website by clicking on the "Member Login" button and then the "Log in" button. (Your username is the email associated with your ticket purchase.)
Once the username and password are entered you should see your patron dashboard.
You will then click on "My Profile" under the "Hi ____" tab and see the Subscription Renewal page.
You will click on Renew to confirm your seats, make any note of changes and give payment.
If you experience trouble logging in please contact our box office at 352-351-1606 or via email at info@reillyartscenter.com.
Upcoming Orchestra Concerts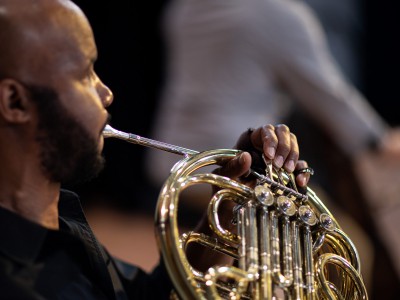 Celebrate our nation's 246th birthday with the Ocala Symphony!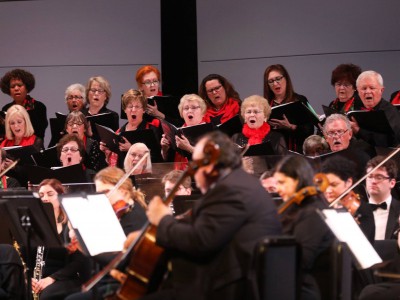 A beautiful performance by the Ocala Symphony Orchestra Chorus and Orchestra!
Open Rehearsals
Open Rehearsals give families and students an opportunity to enjoy the orchestra in a relaxed environment, while experiencing an educational, behind-the-curtain view on how a symphony prepares for a professional concert!
Guests will hear from the conductor, watch our musicians up close, and can attend at their own speed! We encourage student groups and families to join us and take advantage of this unique event. During our season Friday night rehearsals begin at 7PM and the orchestra will begin rehearsing pieces they are playing for the upcoming concert. Guests are welcomed to stay for as long as they like. While Open Rehearsals are more relaxed than a formal orchestra performance, we do ask that all guests maintain concert manners and respect our musicians and conductor.
Open rehearsal are free and open to the public. While there are no tickets, we appreciate knowing that you plan to attend! We do serve snacks on a first come first serve basis, so if interested please email info@reillyartscenter.com and let us know you'll be joining us.
6:30 PM – Lobby opens for snacks
7:00 PM – Symphony rehearsal begins in the auditorium
8:30 PM – Symphony rehearsal ends
Upcoming Rehearsals:
Friday, October 28, 2022: Spellbinding Beginnings
Friday, January 27, 2023: Italian Impressions
Friday, March 17, 2023: Youthful Renderings
Friday, April 28, 2023: (Pop) Music America
Coffee with the Conductor at the Marion Theatre
Enjoy a cup of coffee with Matthew Wardell, Ocala Symphony conductor, as he leads an in-depth discussion about the pieces and composers that will be featured at the Ocala Symphony subscription concerts. Coffee with the conductor is free, and you do not need a ticket to the concert to attend – but we think by the end of coffee you will want to be there to experience the music!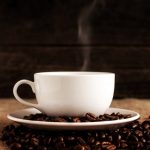 October 14 – 10:00 AM
January 13 – 10:00 AM
February 17 – 10:00 AM
March 3 – 10:00 AM
April 14 – 10:00 AM

Previous Coffee with the Conductors:
Symphony for Schools
Each school year more than 10,000 students are visited through our Symphony for Schools program.
The Symphony for Schools program takes professional musicians into Marion County classrooms for a 30-minute fun and educational presentation. Our musicians demonstrate orchestral instruments, perform sections of pieces from Mozart to Moana, and get the students involved! The goal of the presentation is to give students an insight into the fun and empowering feelings that music and playing a musical instrument can bring. Are you interested in bringing Symphony for Schools to your school? Contact pamela@reillyartscenter.com.
Support the Ocala Symphony Orchestra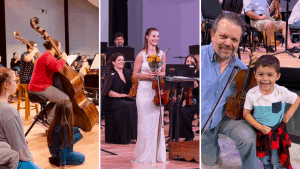 Arts for our Veterans
The Reilly partners with Vet Tix and Vets Helping Vets to provide complimentary tickets for Marion County veterans to performances that include rock, jazz, theatre, orchestra and more! Each July veterans are honored during our Red, White and OSO Blue: A Salute to Independence concert. 
Symphony for Schools
Each season, the OSO visits Marion County Elementary students for a curated music presentation. Students learn about the orchestra, hear instrument demonstrations and are welcomed to ask questions about music! 
Community Ticket Program
Through the Community ticket program, the Reilly gives tickets to local nonprofits so they can share the power of music with their clients and staff. 
Young Artist Competition
This competition invites promising young musicians from across the country to compete for the title of Young Artist Winner. Winners from the Junior and Senior categories go on to perform their concerto with the OSO at a Spring Subscription performance and receive a $1,000 cash prize. 
Open Rehearsals for Students and Families
Open rehearsals invite students and families to the Reilly Arts Center for free pizza, soda and an exciting behind-the-scenes experience as they join the OSO and Maestro Matthew Wardell during their final rehearsal before a weekend of concerts!
Program Ads for the Ocala Symphony Orchestra
Support the Ocala Symphony Orchestra as a program ad sponsor! These programs are seen by the 6,000 guests that attend our subscription concerts starting this November and ending in April. When you purchase a spot in our program your ad will appear in all five of our programs along with the opportunity to be recognized in our pre-program slideshows. Your program ad can be used to promote your business and your support of the OSO, however it works for you! Discounts are always encouraged when applicable and we have various sizes available to fit all budgets! This donation to the OSO will not only positively impact our community, but will give your business the opportunity to partner with the arts in Ocala. Click here to download a printable version of our ad contract.