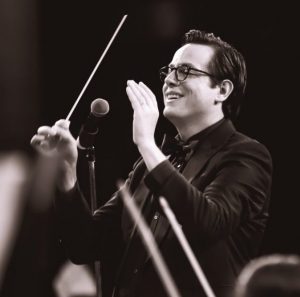 MATTHEW WARDELL (b. 1983) began his tenure as Music Director and Conductor of the Ocala Symphony Orchestra in 2009. When Matthew was appointed Music Director of the Ocala Symphony Orchestra the Ocala Star Banner declared that, "Wardell brings an impressive resume of musical and conducting training … Maybe more important than his musical credentials is Wardell's youthful enthusiasm and unabashed zest … Wardell is not only a daring and dynamic choice as the Ocala Symphony Orchestra's new conductor, but a smart one."
Born in Jacksonville, Florida, Wardell began his undergraduate work in percussion and composition at the University of Florida and received his Bachelor of Music cum laude at the University of North Florida working under Charlotte Mabrey. Wardell continued his education by earning a Masters of Music at the University of Florida with his mentor Raymond Chobaz. Matthew is currently completing is Doctorate of Musical Arts (DMA) at the University of Florida. In April of 2009, Matthew conducted 2 performances of Puccini's Tosca with only one day's notice. The performances were hailed as "first-rate" and "inspiring." Matthew's ability to step in at the last moment was described as a "magnificent feat … when the stakes were high, Mr. Wardell came through brilliantly and proved his mettle." Matthew spent five summers at the Pierre Monteux School for Conductors and Orchestra Musicians in Hancock, Maine studying with Michael Jinbo. Wardell has been fortunate to have been recognized as both an Osher and Quimby Family Foundation scholar. He is very proud to be part of the school's long heritage of forming clear and dutiful conductors and considers Hancock a second home. In addition, Matthew has attended and participated in master classes with Keith Lockhart of the Boston Pops and BBC Orchestra, Thomas Cockrell of the University of Arizona, and studied for an extended time with conductor and composer Peter WesenAuer in Salzburg, Austria.
Matthew is a champion of all kinds of orchestral music. He enjoys programming and conducting core repertoire arm and arm with pops and new music believing that good music is just that – good music. He is a member of the American Symphony Orchestra League and serves or has served on the boards of the Ocala Municipal Arts Commission (OMAC), Young Professionals of Ocala (YPO), and The Centers. In addition to his musical pursuits, Wardell is passionate about local government and in 2015 was elected to City Council, representing Ocala's 4th district. He enjoys traveling, good company, and attending Jacksonville Jaguars' games – Duuuuuuvaaaalll. In 2019, he married the love of his life partner, Pamela Calero. Mr. Wardell is also an electric vehicle enthusiast and sometimes spends a little more time with his Tesla Model 3 than Pamela would like. Matthew and Pamela have one dog, Buckley, who is probably up to no good at this very moment.
To find out more about Matt and what he and his family are up to, check out www.matthewwardell.com.
The Ocala Symphony Orchestra will be announcing auditions for the 2021-2022 season soon!
Please check back for more details. Announcements and positions will be included on this site as well as on the Ocala Symphony Orchestra and Reilly Arts Center Facebook pages. If you'd like to be included on our announcement list, please Email OSO Librarian and Personnel Manager, Margaret Dixon, at ocalasymphonyorchestra@gmail.com.
Our OSO Musician Spotlights

You've seen them up on stage, you've heard them play, but now get to know a little bit more about our talented OSO musicians!
Pamela Mireles – Violin