Free online broadcast! Tune in at ReillyArtsCenter.com/live to view the broadcast live on our Website, learn more about the band, check out our full list of upcoming performances, and to check out our past performances!
"Bring the Noise" is a program focusing on newly commissioned works for the Moreau | VanTuinen Duo (Percussion/Euphonium-Tuba) as well as an adaptation of an original work for Bassoon and Euphonium. This program features the blending of both contemporary and experimental styles among each of these instruments. "Bring the Noise" is a bombastic culmination of what is expected and what could be!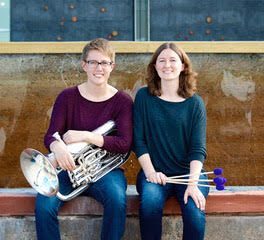 The Moreau | VanTuinen Duo
Performers
The Moreau | VanTuinen Duo is one of the only all female percussion+low brass duos in the world. Formed in 2014, the group is comprised of Dr. Danielle Moreau (percussion) and Dr. Danielle VanTuinen (euphonium+tuba), who presently reside in Gainesville, Florida.Their primary objectives include providing educational outreach opportunities for high school programs in the southeast and commissioning new repertoire for the group. Since 2017, they have performed as featured artists at the International Women's Brass Conference, Southwest Regional Tuba/Euphonium Conference, the Back Cove Contemporary Festival, the Mississippi Music by Women Festival, and the Asociación Española de Tubas y Bombardinos Festival in Madrid, Spain. As passionate advocates of new music, they have expanded the repertoire through commissioning projects with composers such as Adam Silverman, Shaun Tilburg, Etienne Crausaz, Steven Snowden, and James Grant. Danielle VanTuinen currently serves as Assistant Professor of Tuba/Euphonium at the University of Florida; Danielle Moreau is a freelance musician and educator, and proudly endorses Black Swamp Percussion, Innovative Percussion, and Marimba One.
Sponsors