Co-led by award-winning jazz artists, vocalist Lisa Kelly and trumpeter JB Scott, the Kelly/Scott Jazz Sextet features six outstanding, internationally traveled Florida-based musicians whose illustrious careers have included jazz clubs to festival stages around the U.S. and throughout the world, including Europe, Canada, the Caribbean, Japan, Russia, and China. Their resumes are extensive, often performing and recording together over their years of freelancing, their career backgrounds are notable, with three members as Jacksonville Jazz Festival "Hall of Fame" Inductees, one who recorded with Buddy Ritch, one a former vocalist with the Larry Elgart Orchestra, one a former leader of the Dukes of Dixieland in New Orleans, and one the former drummer with the Navy Commodores in D.C. This concert brings them together for an engaging, entertaining show of "Classic Swing to New Orleans" repertoire, with favorites from the Great American Songbook, to Modern jazz, and tunes in the spirit of New Orleans. Songs are connected to Ella Fitzgerald, Louis Armstrong, Oscar Peterson, Stan Getz, Diana Krall, Art Tatum, Clark Terry, Lester Young, Al Hirt, and other jazz notables, in interpretive styles of classic swing, groovin' St. Beat, Brazilian Bossa Nova, light funk, and jazz Blues.
Website: www.kellyscottmusic.com for CD's, videos, bios, and performances calendar.
Guests will be seated at tables of 4 or 6 – so bring a group of friends or meet someone new! If you plan to sit with another party please email info@reillyartscenter.com so we can best accommodate you and your guests.
PLUS purchase before May 10th at 5:30 PM: A Curated Grazing Box! We've partnered up with Graze & Prosper to offer a grazing box with aged cheddar, triple creme brie, Italian salami, jam, fresh fruit and nuts! Purchase for $20 here or call the box office at 352-351-1606.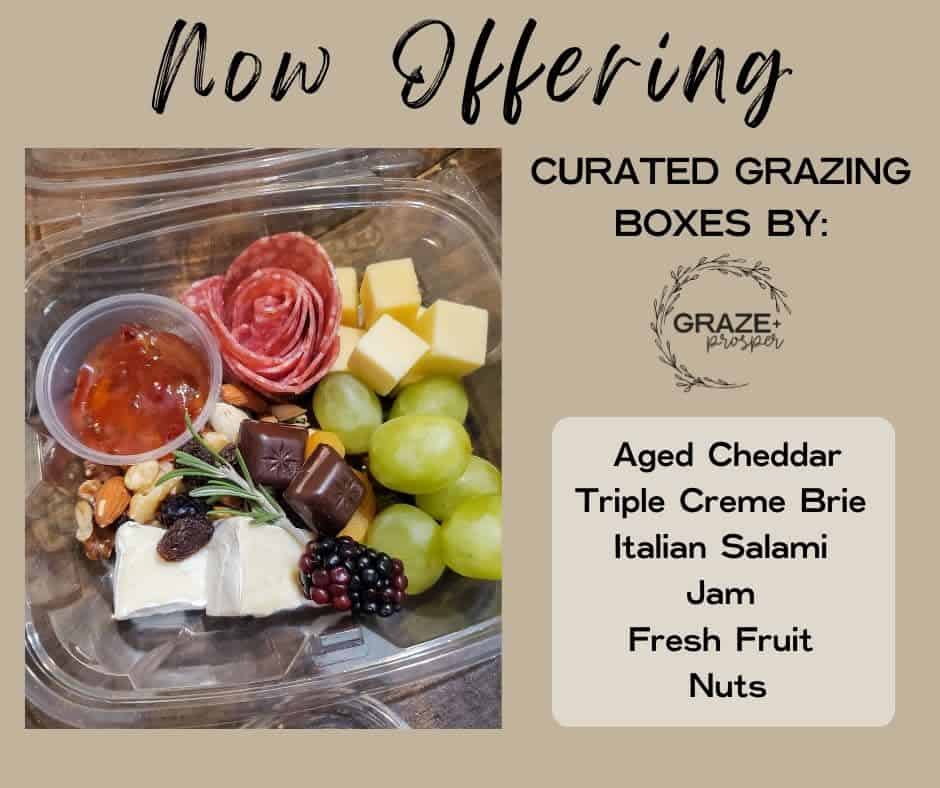 About the Group:
With 8 DownBeat Magazine music awards to her credit, vocalist Lisa Kelly has been the featured vocalist with the legendary Larry Elgart Orchestra, the St. Johns River City Big band, the UNF JE 1 big band, and many others. Featured on radio commercials and TV programs, Lisa is the 1997 originator and 22-year host of the Jacksonville Jazz Festival jam session, the 2018 originator and annual coordinator of the Friday Musicale jazz camp, and is a 2013 Jax Jazz Festival "Hall of Fame" inductee. Former leader of the famous Dukes of Dixieland in New Orleans, Yamaha Trumpet Artist JB Scott has toured with the Jimmy Dorsey Orchestra, and Ringling Bros. Barnum & Bailey Circus, Japan tour, and is the 2017 Jax Jazz Festival "Hall of Fame" inductee. He directs the UNF top big band, the Great American Jazz Series, and coordinates the UNF Jazz Program. Multi-instrumentalist Dr. Bill Prince has played with countless bands, including the NORAD Band, Buddy Rich, Billy Maxted, and Harry James, in every state, and most countries A UNF professor emeritus, his musicianship and teaching legendary, he is the 2008 Jax Jazz Festival "Hall of Fame" Inductee. From Lakeland, a staff pianist appearing regularly at the Walt Disney World theme park and in the Grand Floridian society orchestra, Jeff Phillips has performed with Clark Terry, Buddy DeFranco, Bill Allred's Classic Jazz Band, and the Rhythm Rascals, to name a few. Touring bassist with legends Arturo Sandoval, Maynard Ferguson, and others, Ricky Ravelo has recorded on Blue Note Records and other projects. One of the busiest bassists in the area for years, he's played countless times on the Jacksonville Jazz Festival, Savannah Jazz Festival, and many others. Legendary drummer formally with the U.S. Navy Commodores big band in D.C, Clyde Connor has recorded for Warner Brothers, Beldwin, and on countless projects. Touring with big bands, playing for symphony orchestras, small groups, the St Johns River City Band, and on recording sessions, Clyde is a drum, percussion, and composition visiting artist adjunct at University of Florida.
VIP includes 4 admission tickets, a reserved table in a great location, and the first round of drinks on us!