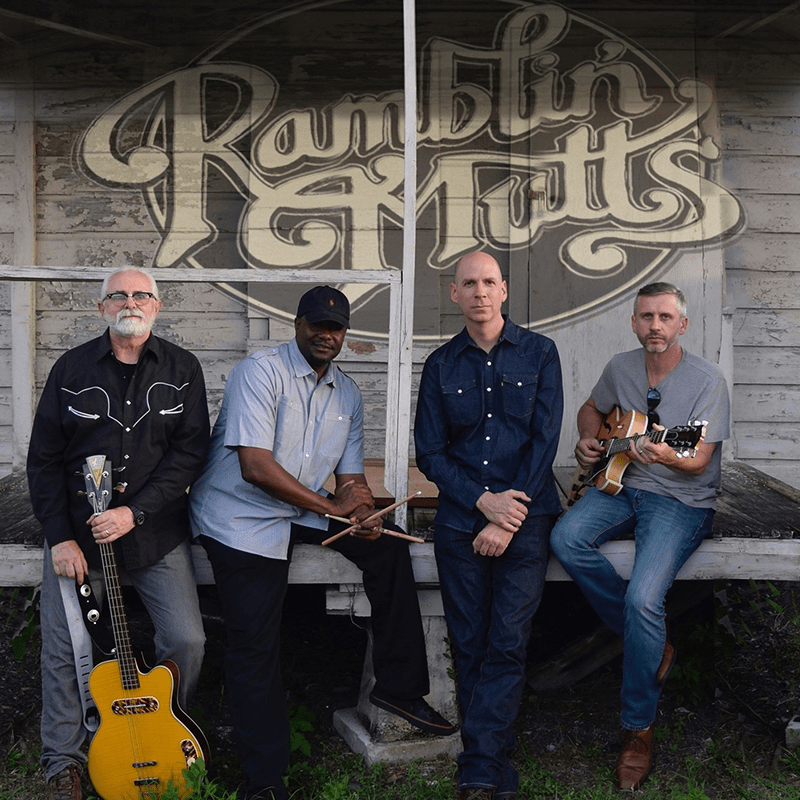 Ramblin' Mutts preform soulful, original, rhythm and blues. This summer they will be releasing their first full-length album titled "Pity and Mercy" featuring 15 original tunes. The album contains songs about love, loss, redemption and the blues.
As always fronting the band is Dan Stepp on lead vocals, keyboards and slide guitar. Playing lead guitar is the talented Paul Goble, and the rhythm section is made up of Richard Heipp on bass joined by the driving drum beats of Rich Patrick. The band also includes a rockin' horn section led by Brain Stevens on trombone, with Paul Johnson on tenor saxophone, Greg Snider on Baritone sax, and Sean Etheridge on trumpet.
An earlier incarnation of the Ramblin' Mutts, known as the R. Mutt Blues Band, were two-time winners of the North Central Florida Blues Society IBC International Blues Challenge and represented N.C. Florida on Beal Street in Memphis TN. The Mutts have had the pleasure of being selected to perform as the opening act for such blues greats as Selwin Birchwood, John Nemeth, Brandon Santini, Mike Zeto, Little Mike Markowitz, Seth Walker, Willie Green and Little Jake Mitchell.
For this performance at the Reilly Art Center on June11, 2020, the Ramblin' Mutts will be performing selections from their upcoming album. Their music pays a passionate and respectful tribute to the traditions of the soul and rhythm and blues genres. They will also be playing a few updated reinterpretations of traditional blues classics that honor the legacy of this timeless music form.
A selection of the Mutts recent performances recorded at Gainesville's Heartwood Soundstage can be seen at:
https://www.youtube.com/channel/UCHzDOXHhlR133bYowVrX8xg