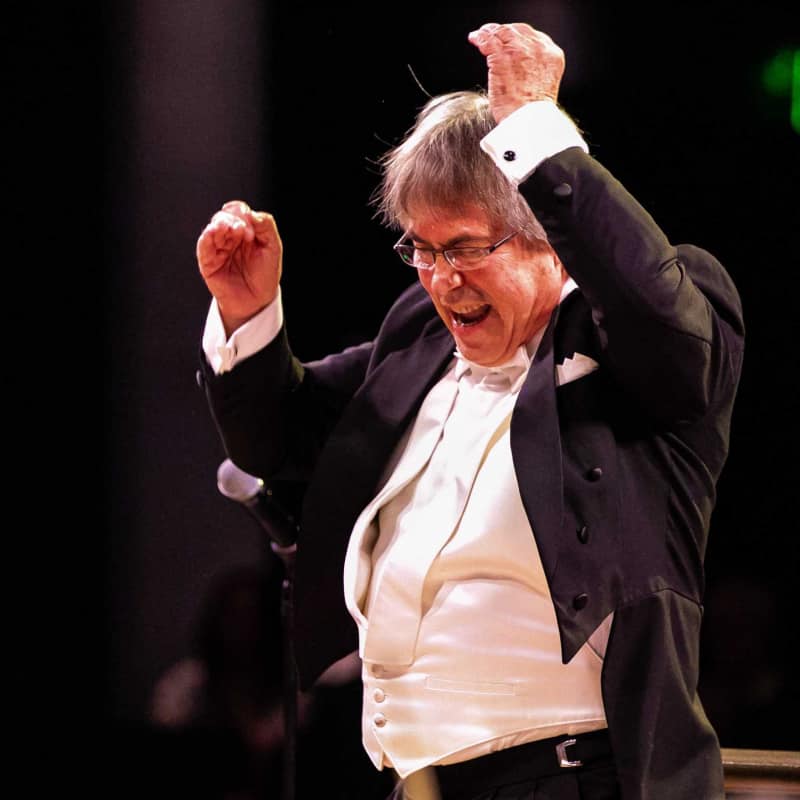 Principal Guest Conductor
Raymond Chobaz, Professor of Music and Conductor Laureate of the Gainesville Symphony Orchestra
Raymond will conduct "Hungarian Pictures" in January.
Raymond Chobaz holds the Provost's UF Term Professorship and is music director and conductor of the University of Florida Symphony Orchestra and conductor of Dance Alive National Ballet. He holds a Bachelor of Science degree in physics and mathematics summa cum laude, and a Master of Arts degree in music theory. As an International Rotary Scholar at the University of Utah, he received both a Master of Music degree in orchestral conducting and a Ph.D. in music composition under Vladimir Ussachevsky. Post-doctoral studies allowed him to assist and work with Herbert Blomstedt in San Francisco, Kyrill Kondrashin in Amsterdam, Raphael Kubelik in Lucerne, Erich Leinsdorf in New York, Witold Rowicki in Vienna, Georg Tintner in Prague, and Pierre Boulez in Basel and Paris.
Chobaz is the recipient of numerous federal grants, scholarships, awards, and first prizes in both composition and conducting, which include the Leroy Robertson, Intercollegiate Bicentennial Composition Competition, Utah Composers Guild, Paul Sacher Stiftung, Martha Baird Rockefeller, Blomstedt International Conducting Award for Orchestral Performance and Symphonic Literature, the Beethoven Festival in Marienbad, and Czech National Opera and Radio Prague International Conducting Competition. As the top winner, he was invited to conduct all major symphony orchestras and opera companies in the Czech Republic and appointed conductor-in-residence of the Bohuslav Martinu Philharmonic, the Marienbad International Music Festival with the West Bohemian National Orchestra, and the annual International Composition Workshop with the Olomouc Symphony Orchestra.
In recognition of his national and international accomplishments, Chobaz has received grants for Advanced Research in Music Performance from the International Research and Exchanges Board in Washington, D.C., US Department of Education, US Information Agency, US Department of State, US Army, National Aeronautics and Space Administration (NASA), National Endowment for the Humanities, National Endowment for the Arts, and International Symphonic Workshops, Canada. Additionally, he has received various grants from the Florida Department of Cultural Affairs, which included the official representation of the State of Florida with Dance Alive National Ballet at the International Ballet Festival in Havana, Cuba, Florida Sea Grant, a special Research Leave by the Office of the Provost to work with Prof. Richard Ernst, Nobel Prize Laureate, at the Swiss Institute of Technology (ETH) in Zurich, and most recently, both a Distinguished Alumnus and Lifetime Achievement Award from the University of Utah. This past fall, Dr. Chobaz has also been asked to take over the Florida Symphony Youth Orchestra in Orlando.
During his tenure at the University of Florida, Chobaz has founded the Gainesville Symphony Orchestra and provided many new experiences for his students with internationally known artists, first-time ballet and opera productions, television and radio broadcasts, children's and pops concerts, multi-media and interdisciplinary collaborations with painters, poets, writers, dancers, and ethnic ensembles, commissions and first performances that earned the orchestra an ASCAP Nissim Award for innovative programing.